8 February 1969 – Thomas Edward Clark was born on April 15, 1939, in Emporium, Pennsylvania as the third son of the late Otto and Josephine Schager Clark. An avid hunter and fisherman, Tom enjoyed the outdoors. He was a star fullback at Cameron County High School, graduating with honors in 1957.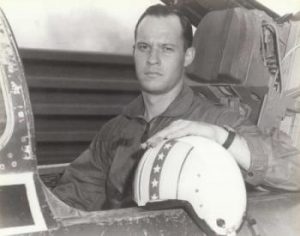 After attending Penn State University for two years, Clark received an appointment to the Air Force Academy from which he graduated in 1963. The graduation ceremony included the first commencement address to the Academy from a sitting president, President John F. Kennedy. That same year Tom married his high school sweetheart, Kathleen Mottern of Emporium. The 1963 Air Force Academy Yearbook states that Tom's goals were to be a pilot and a politician.
On February 8, 1969, Captain Clark was flying an F-100D Super Sabre, of 416th Tactical Fighter Squadron, 37th Tactical Fight Wing, in a flight of four mission over Laos. The flight controlled by an F-4 Forward Air Controller engaged a 23mm Anti-Aircraft Artillery battery. Captain Clark's aircraft was hit by rounds from the artillery battery, burst into flames, and crashed. No parachute was observed. Aircraft in the area conducted visual and electronic searches, with negative results.
Subsequent to the incident, the U.S. Air Force determined Captain Clark was Killed in Action (KIA), Body not Recovered (BNR). The Air Force posthumously promoted Tom to the rank of Major.
On February 12, 1991, a joint U.S./Lao People's Democratic Republic team investigated the crash of Thomas E. Clark's F-100. In late 1991, a Thai citizen turned over to U.S. Officials in Thailand human remains as well as a military identification tag and a partial military identification tag bearing Major Clark's name. The remains were identified as other than Captain Clark's. In February of 1992, a team worked to excavate the suspected crash site of Thomas E. Clark in the Savannakhet Province with no apparent results.
In October of 2005, a joint team re-investigated the crash site excavated in 1992. Another bone fragment was found but later identified as not part of a human. In October of 2009, another joint team re-excavated portions of the crash site and recovered human remains. After extensive examination, including isotope testing, the human remains were identified as the remains of Thomas E. Clark.
The Clark family was notified in June 2011 that the remains of Thomas E. Clark would be returned to the family.
Major Thomas Clark's coming home to Emporium, was escorted by Patriot Guard Riders and Police, on Thursday, Oct. 20, 2011. The procession paused at his former home at 229 West 4th Street before continuing East on 4th Street to the Barnett Funeral Home. The public welcomed him home by standing along 4th Street awaiting his arrival after 42 years.
Major Clark is survived by his widow Kathleen Mottern Clark Blair and her husband Robert, of Cedar Crest, NM, two brothers, Roger B. Clark and his wife Millie, of Emporium, and John O. Clark and his wife Linda of Virginia Beach, VA. and also by a large extended family.
In addition to his parents' death Tom's brother Gerald A. Clark, of Emporium, a U.S. Navy veteran of the Korean War, passed away in 1995.
Major Clark was buried with Military Honors and a USAF fly-over at the St. Mark Catholic Cemetery.
Source: https://www.barnettfuneralhome.net/obituary/Major-Clark