20 January 1969 – 1Lt J.R. Nichols with the 612TFS out of Phu Cat AB, Vietnam was flying F-100D #553513 as Sun Valley 1 on a mission over Laos.  His aircraft was hit by gunfire and Nichols ejected. He was recovered with minor injuries.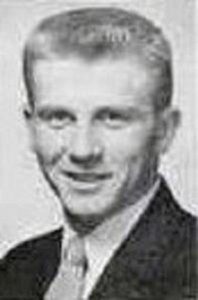 Flying the same day, in F-100D # 563158 was Capt Milo George Maahs. Milo had been serving with the 615TFS out of Phan Rang AB. Capt Maahs was above Ben Hoa over enemy lines doing his first bomb run, he was the leader, and his aircraft was shot in the fuselage. He attempted to return to friendly lines, but he was out of hydronic fluid so he ejected. He was too low to the ground and his parachute malfunctioned and didn't open.
At the time, Milo had three children, a little girl named Dana who was five, a young son named Darren who was three, and a 21-month-old boy named David. His wife was Donna Lee (Shader) Maahs. Now Donna Lee (Shader) Wilson was widowed with three small children at the age of 28. Milo is buried at Ft Snelling National Cemetery. (This information was excerpted by his grandson's tribute on The Wall of Faces).