23 January 1939 – Buffalo, N.Y., January 24—(AP)—A Curtiss Hawk 75A pursuit plane, one of 100 being constructed for the French Government, has "substantially exceeded all known speed records" with a free dive of more than 575 miles an hour, it was announced today.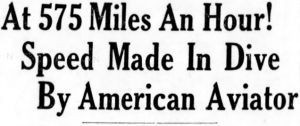 The speed mark was established yesterday while the ship was undergoing acceptance tests, officials of the Curtiss Aeroplane Division of the Curtiss Wright Corporation said.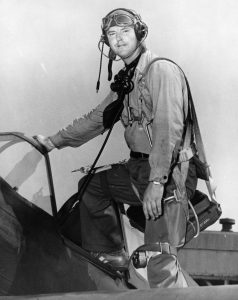 The tests were made by H. Lloyd Child, chief test pilot of the Buffalo Curtiss plant, who said he "felt no ill effects and did not realize" that the speed was presumably the fastest man has ever traveled."
National Aeronautic Association officials said that no Federation Aeronautique Internationale records "even approached this speed."
The speed of the dive was so great that the marker on the recording airspeed indicator exceeded the instrument's range and moved off the paper on which the graph of the dive was recorded.
Aviation experts, who declined to be quoted directly, estimated that the speed might have exceeded 600 miles per hour, compared with the normal falling rate for a 170-pound man of 150 miles an hour.
The dive was begun at an altitude of 22,000 feet, and the record speed was attained during a 9,000-foot dive.
At no time during the dive, Child said, did the engine exceed 2,550 revolutions a minute, its normal rated speed in level flight. Hence, he explained, the strain on the motor during the dive was not increased, but was held to the speed of normal operation by the Curtiss electric propeller, with its unlimited blade pitch range.
Since the motor's speed was kept at normal during the dive, it was a "free," rather than a "power" dive as when the motor throttle is opened wide, aviation experts explained.
Previously, company officials explained, a limiting factor in the speed at which an airplane could dive was the engine's revolutions each minute, since overspeeding would result to serious damage to the motor.
The Curtis Hawk 75A pursuit plane is similar to the Curtiss P-36A, the standard pursuit airplane of the United States Army Air Corps.
It carried two machine guns and is equipped to carry bombs under each wing when on a fighting mission.
The greatest previously registered speed was 440.681 miles an hour, made by Francesco Agello of Italy over a three-kilometer course in level flight on October 23, 1934.
The world's land speed record is held by George E. T. Eyston of England at 357.5 miles an hour, established September 16, 1938.
—The Cincinnati Enquirer, Vol. XCVIII, No. 291, Wednesday, January 25, 1939, at Page 1, Columns 1 and 2
Source: This Day in Aviation by Bryan R. Swopes