3 January 1981 –Pan American World Airways retired its last Boeing 707 airliner. Pan Am had been the launch customer for the 707. On 20 October 1955 the airline ordered twenty 707's, and later ordered 130 more. The first one, Clipper America, a 707-121, N707PA, was delivered on 15 August 1958. On 26 October 1958, N711PA, also named Clipper America,¹ made the first regularly scheduled transatlantic flight by a jet airliner.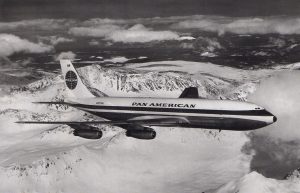 The Boeing Model 707-121 was a four-engine jet transport with swept wings and tail surfaces. The leading edge of the wings was swept at a 35° angle. The airliner had a flight crew of four: pilot, co-pilot, navigator, and flight engineer.
The 707-121 was 145 feet, 1 inch (44.221 meters) long with a wingspan of 130 feet, 10 inches (39.878 meters). The top of the vertical fin stood 41 feet, 8 inches (12.700 meters) high. The 707 pre-dated the "wide-body" airliners, having a maximum fuselage width of 12 feet, 4.0 inches (3.759 meters). The airliner's typical operating empty weight is 122,500 pounds (55,565 kilograms). The maximum take off weight is 257,340 pounds (116,727 kilograms).
The Boeing 707 was in production from 1958 to 1979. 1,010 were built. Production of 707 airframes continued at Renton until the final one was completed in April 1991. As of 2011, 43 707s were still in service.
Source: This Day in Aviation by Bryan R. Swopes c. 2019. Happy New Year Bryan, thanks for sharing your amazing stories with us!