17 July 1952 –  Fifty-eight Republic F-84 Thunderjets complete a trans-ocean flight of 10,895 miles, with seven stops, from Georgia in the USA to Yokota in Japan.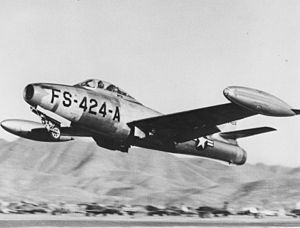 The Thunderjet became the USAF's primary strike aircraft during the Korean War, flying 86,408 sorties and destroying 60% of all ground targets in the war as well as eight Soviet-built MiG fighters. Over half of the 7,524 F-84s produced served with NATO nations, and it was the first aircraft to fly with the U.S. Air Force Thunderbirds demonstration team. The USAF Strategic Air Command had F-84 Thunderjets in service from 1948 through 1957.
During the war, the F-84 became the first USAF fighter to utilize aerial refueling. In aerial combat, F-84 pilots were credited with eight MiG-15 kills against a Soviet-claimed loss of 64 aircraft. The total losses were 335 F-84D, E, and G models. According to USAF FY1953, during the Korean war, 358 F-84s were lost, including 249 in combat missions and 109 non-combat losses.
Source: https://en.wikipedia.org/wiki/Portal:Aviation/Anniversaries/July_17; Wikipedia