The third prototype of three Vought XF7U-1 Cutlass twin-tailed fighters, BuNo 122474, suffered an engine explosion during flight exhibition at NAS Patuxent River, Maryland.
Vought test pilot, W. Paul Thayer, ejected and parachuted into two feet of water in the Patuxent as the airframe impacted on a small island nearby.
Thayer was returned safely to the admiral's reviewing stand,  and the show announcer inquired "What will you do for an encore Mr. Thayer?"
Thayer later learned that he suffered a fracture to a small bone at base of his spine.  He later told Vought management that he was the only manager who actually "broke his ass for the Company".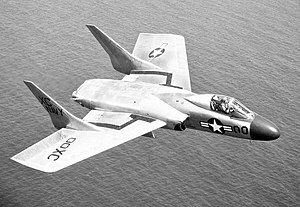 Three prototypes were ordered on 25 June 1946, all three aircraft were destroyed in crashes.
The F7U was designed as a United States Navy carrier-based jet fighter and fighter-bomber of the early Cold War era. It was underpowered by its Westinghouse J34 turbojets, an engine that some pilots liked to say "put out less heat than Westinghouse's toasters." Naval aviators called the F7U the "Gutless Cutlass" and/or the "Ensign Eliminator" or, in kinder moments, the "Praying Mantis". (1)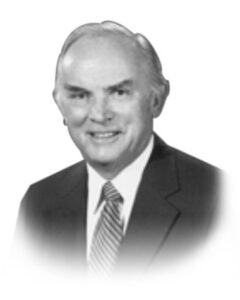 William Paul Thayer (November 23, 1919 – May 6, 2010) was an American test pilot, flying ace, aviation executive, and United States Deputy Secretary of Defense during the Reagan Administration.
Source: https://en.wikipedia.org/wiki/Portal:Aviation/Anniversaries/July_7 and Wikipedia (Thayer); Wikipedia (F7U)