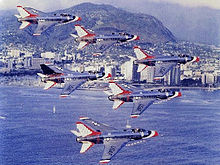 1 June 1956 – The Thunderbirds in the F-100 Super Sabre era – 
The Thunderbirds' aircraft changed in June 1956, to the F-100C Super Sabre, which gave the team supersonic capability. This switch was accompanied by a relocation of their headquarters to Nellis AFB, Nevada on 1 June because of maintenance and logistical difficulties of basing the F-100s at Luke, with their first show after the move being held on 23 June. It also signaled a shift in their performance routine—for example, the "Cuban Eight" opening routine was dropped, and emphasis was placed on low, screaming flyovers and demonstrations of takeoff performance. For a time, if the show's sponsor permitted it, the pilots would create a sonic boom; this ended when the FAA banned supersonic flight over the continental United States. The move to Nellis also resulted in the first assignment of buildings and hangar space to the team.[12]
This practice remained in force through the 1973 season. In 1961, the team was compelled to discontinue the vertical bank maneuver due to an FAA regulation prohibiting aerobatics that pointed the nose of the aircraft toward the crowd. The year 1962 saw the introduction of dual solo routines, and the Thunderbirds went on their first European deployment in 1963, the year after the disbanding of the "Skyblazers".
The team switched to the F-105 Thunderchief for the 1964 season but were forced to re-equip with the F-100D after only six airshows due to a catastrophic structural failure of the No. 2 aircraft during a pitch-up maneuver that resulted in the death of Capt Gene Devlin at Hamilton Air Force Base. The F-100D Super Sabre was retained through the 1968 season.
Source: Wikipedia