21 June 1953 Two crew of the 3200th Fighter Test Squadron, Air Proving Ground Command, Eglin AFB, FL, are killed in a Lockheed F-94C-1-LO Starfire, 50-5969, when it crashes at Fairfax Field, Kansas City, KS.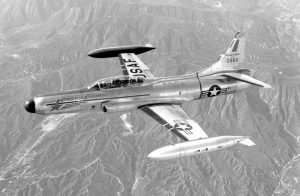 The fighter had departed the airfield on a routine training mission for a flight to Scott AFB, IL when the pilot attempted to return shortly after the 1330 hrs. CST take-off.
The Fighter struck a dike short of the runway, hitting ~10 feet (3.0 m) below the top, and caromed onto the runway. The radar operator was killed on impact and the pilot died later of his injuries.