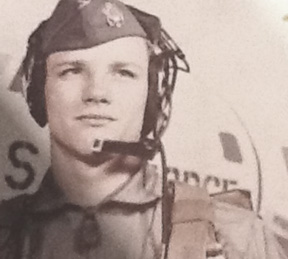 March 24, 1968 – Capt. Eugene Phillip McKinney who was serving with the 614th Tactical Fighter Squadron out of Phan Rang AB (since February of 1968) was flying F-100D (#563152). After making 3 successful bombing runs, McKinney was shot down during a strafing run.
Prior to entering the Air Force, Capt. McKinney attended Lincoln University. Captain McKinney entered service on 13 October 1959 at Lackland AFB, Texas.  He was commissioned upon completion of training as a navigator at Harlingen AFB, Texas in 1960.  In 1960 he served with the 3610th Navigator Training Wing. He was promoted to Captain in March 1965.  He graduated from fighter-bomber pilot training in May 1967.
He left a wife and five children at his passing.
He was posthumously awarded the Silver Star, Air Medal, Purple Heart, and the South Korean Order of Military Merit (Hwarang) at Scott AFB, that were presented to his wife, Sue.  She passed away on 17 February 2014.
Source: https://airforce.togetherweserved.com/usaf/servlet/tws.webapp.WebApp?cmd=ShadowBoxProfile&type=Person&ID=80950