1 May 1960 – Near Degtyansk, Sverdlovsk Oblast, Russia, a Central Intelligence Agency/Lockheed U-2C, 56-6693, "Article 360," flying at approximately 80,000 feet (24,384 meters) on a Top Secret reconnaissance mission, was hit by shrapnel from an exploding Soviet V-750VN (S-75 Desna) surface-to-air missile.
With his airplane damaged and out of control, pilot Francis Gary Powers bailed out and parachuted safely but was immediately captured. A trailing MiG-19 fighter was also shot down by the salvo of anti-aircraft missiles, and its pilot killed.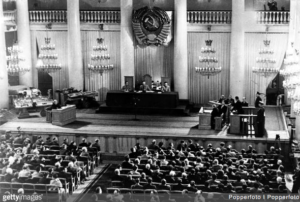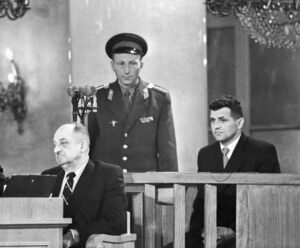 Gary Powers was interrogated by the KGB (Komitet gosudarstvennoy bezopasnosti, the Committee for State Security of the Soviet Union, a military intelligence/counterintelligence service) for 62 days. He was held at the notorious Lubyanka Prison in Moscow then prosecuted for espionage. Found guilty, Powers was sentenced to three years imprisonment and seven years of hard labor.
After almost two years, he was exchanged for William August Fisher, (AKA Rudolf Ivanovich Abel, Vilyam Genrikhovich Fisher) a long-time Soviet intelligence officer who had been captured in the United States in 1957. [This story was recounted in the Steven Spielberg motion picture, "Bridge of Spies," which starred Tom Hanks. The film received six Academy Award nominations in 2015.]
After his release from the Soviet Union, Powers was employed as a test pilot for Lockheed.
Francis Gary Powers entered the United States Air Force as an aviation cadet in 1950. He graduated from pilot training and was commissioned a second lieutenant in 1952. Powers was then assigned to the 468th Strategic Fighter Squadron, 506th Strategic Fighter Wing at Turner Air Force Base, Georgia, where he flew the Republic F-84G Thunderjet fighter bomber. He received special training in the delivery of the Mark 7 variable-yield tactical nuclear bomb.
In 1956, 1st Lieutenant Powers was released from the U.S. Air Force to participate in the Central Intelligence Agency's Project Aquatone. He was now a civilian government employee, although he was promised that he could return to the Air Force and that he would keep his seniority and would be promoted on schedule.ed, 1962–1970. He then became an airborne traffic and news reporter for several Los Angeles-area radio and television broadcast stations.
Powers was killed in the crash of a Bell 206B JetRanger helicopter at Van Nuys, California, on 1 August 1977.
On 24 November 1986, the Distinguished Flying Cross was awarded posthumously to Powers "For Extraordinary Achievement While Participating in Aerial Flight 1 May 1960."
After reviewing his record at the request of his son, Francis Gary Powers, Jr., on 15 February 2000, the U.S. Air Force retroactively promoted him to the rank of Captain, effective 19 June 1957, and further credited his military service to include 14 May 1956–1 March 1963, the time he was with the CIA. The award of the Prisoner of War Medal was also authorized.
On June 15, 2012, General Norton Schwartz, Chief of Staff of the Air Force, awarded Captain Francis Gary Powers the Silver Star (posthumous).
Excerpted from ThisDayinAviation.com by Bryan R. Swopes