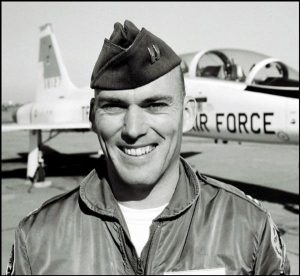 21 May 1967 David Carl Lindberg died during an airstrike while flying an F-100D, SN 56-3285, near Khu Tru Mat in Bihn Duong Providence, South Vietnam on May 21, 1967, while supporting the 11th Armored Cavalry Regiment.
His wife, Karen Tisher, recently provided the following information. "He was on scramble alert mission. The Forward Air Controller observed Dave's aircraft burst into flames while on a napalm pass and crashed approximately 12 miles North, Northwest of Bien Hoa AB, RVN (XT98630) at 1722 hours May 21, 1967. A partially deployed chute was observed and a rescue helicopter went to the area to determine his status, however, the helicopter was shot down and his status could not be determined until Army Ground Troops of the 1st. Infantry moved into the area on May 22, 1967, and confirmed that he had been killed. Cause of the crash is believed to be enemy ground fire."
His friend from Harlingen, Vernon 'Bud' Byrd, said he had talked to a person who had witnessed the accident and that the wing had departed the aircraft. Dave's classmate, Harry Brown, who also flew the F-100D, revealed that the wing "Center Box" where the main wing spars joined had probably failed. In October 1967, five months after Dave was killed, the entire F-100D fleet was restricted to a 4-G maneuver limit until all the aircraft could be inspected and modified as necessary.
David Carl Lindberg entered the United States Air Force Undergraduate Navigator Training as an Aviation Cadet and attended pre-flight at Lackland Air Force Base, San Antonio, Texas. He then went to Harlingen Air Force Base, Texas where he received flying training in the T-29C 'Flying Classroom'. He was the Cadet Wing Commander. On June 18, 1959, he graduated receiving his Navigator Wings and was commissioned a Second Lieutenant. Dave was also a "Distinguished Graduate".
On June 20, 1959, Dave and Karen 'Kay' Nicholas were married in Springfield, Missouri.
He then became an Instructor Navigator with the 3610th Navigator Training Wing at Harlingen Air Force Base, Texas, where among other duties he taught Grid navigation. While at Harlingen, they had a daughter, Debbie. He also served as the Assistant Scoutmaster for Boy Scout Troop 238, Heart O' Texas Council. On one Scout outing, he and the scoutmaster, Vernon 'Bud' Byrd, took the Boy Scout Troop on a backpacking trip on the Pine River near Vallecito Reservoir in Colorado.
When Harlingen Air Force Base was closed in 1962, he was transferred to James Connally Air Force Base, Waco, Texas where he again served as an Instructor Navigator with the 3565th Navigator Training Group for several years. Their second child, a son, Dan, was born at James Connally. While at James Connally, he was promoted to Captain on December 18, 1963.
Dave and Kay, along with their two children, arrived at Vance Air Force Base in Enid, Oklahoma where he became a member of Pilot Training Class 65-F, on March 9, 1964.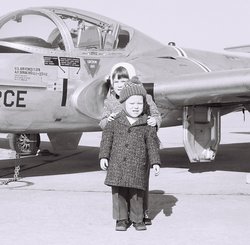 Dave was assigned to 3575th Pilot Training Wing, 3576th Pilot Training Squadron, Flight 3, 'Speedy' where he flew the T-37B 'Tweet', which he soloed in April 1964. His instructor was Captain Donald D. Bendell.
Partway through our T-37B training, the class was split in half and he was reassigned to the 3575th Pilot Training Squadron, Flight 4, 'Blue Chip' where his instructors were Richard L. Holcomb and James N. Locke. While assigned to the 3575th, he became the Section Leader for 65-F. Upon completion of T-37 training, he received the 3575th Pilot Training Squadron award for being the Outstanding Student in Class 65-F.
In advanced training, he was assigned to Flight 1, 'Skid Row' where he flew the supersonic T-38A 'Talon', which was also known as the 'White Rocket'. His instructor was Leigh H. Hunt, Jr.
On Saturday morning, March 20, 1965, he graduated and was awarded his Pilot Wings. He was awarded the Air Training Command Commander's Trophy aka the Order of the Daedalian for being the top overall student in the class. He also won the UPT Flying Training Award and was an Outstanding Officer Graduate, aka Distinguished Graduate.
Dave then went to the 4510th Combat Crew Training Group, Luke Air Force Base, Glendale, Arizona where he upgraded to the North American F-100D Super Sabre 'Hun'. After upgrade training, he was assigned to the 31st Tactical Fighter Wing at Homestead Air Force Base, Florida.
He later deployed to Vietnam with the 11th Armored Cavalry 'Blackhorse' as a Forward Air Controller flying the Cessna 01-E 'Bird dog'. He flew visual reconnaissance, convoy escort, and directed close air support for the 11th Armored Cavalry Regiment with the call sign "Nile".
A fellow classmate from pilot training, Mike Thedford, spoke with Dave at Ton Son Nhut just a few days before he was killed. Dave had been reassigned to F-100D's and was about to complete his tour with the 531st Tactical Fighter Squadron flying out of Bien Hoa Air Base, Republic of Vietnam. The 531st Tactical Fighter Squadron was assigned to the 3rd Tactical Fighter Wing and flew with the call sign "Ramrod".
His memorials for the Vietnam Veterans Memorial in Washington, D.C. can be seen at The Virtual Wall and at the Vietnam Veterans Memorial.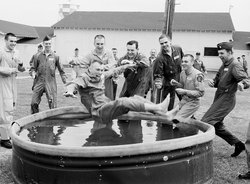 Dave was known by friends for his energy and spirit, excitement, and enthusiasm. Air Force enlisted men who worked with him thought he was a class act, a stud of an officer, and were devastated when he was KIA.
Source: https://www.findagrave.com/memorial/47467225/david-carl-lindberg; https://www.vvmf.org/wall-of-faces/30739/david-c-lindberg/