22 May 1948 Jackie Cochran flew her "Lucky Strike Green" North American Aviation P-51B-15-NA Mustang, USAAF serial number 43-24760, civil registration NX28388, over a 2,000 kilometer (1,242.743 miles) closed circuit from Palm Springs, California, to Mesa Gigante, a point near Santa Fe, New Mexico, and return. The flight, timed by H. Dudley Wright, a representative of the National Aeronautic Association, took 2 hours, 46 minutes, 38 seconds.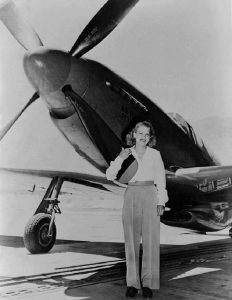 According to contemporary newspaper reports, difficulties with the airplane's oxygen system "prevented Miss Cochran from taking advantage of favorable winds at higher altitudes which might have boosted her speed."
Her Mustang averaged 720.134 kilometers per hour (447.470 miles per hour), setting two Fédération Aéronautique Internationale (FAI) World Records for Speed,¹ and United States National Aeronautic Association speed record for its class. Two days later, she would set another speed record in this same P-51. While the FAI records have been superseded, the United States records still stand. (1)
Jacqueline "Jackie" Cochran (May 11, 1906 – August 9, 1980) was an American pilot and business executive. She pioneered women's aviation as one of the most prominent racing pilots of her generation. She set numerous records and was the first woman to break the sound barrier on 18 May 1953. Jackie was encouraged by then-Major Chuck Yeager, with whom Cochran shared a lifelong friendship.
She was also the wartime head of the Women Airforce Service Pilots (WASP) (1943–44), which employed about 1000 civilian American women in a non-combat role to ferry planes from factories to port cities.
Sources: (1)  This Day in Aviation History by Bryan R. Swopes and Wikipedia