25 May 1953 – In January 1951, North American Aviation delivered an unsolicited proposal for a supersonic day fighter to the United States Air Force. Named Sabre 45 because of its 45° wing sweep, it represented an evolution of the F-86 Sabre. The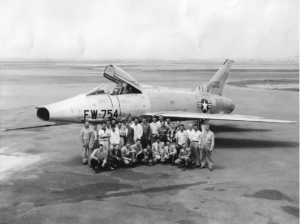 mockup was inspected on 7 July 1951, and after over 100 modifications, the new aircraft was accepted as the F-100 on 30 November 1951. Extensive use of titanium throughout the aircraft was notable.  On 3 January 1952, the USAF ordered two prototypes followed by 23 F-100As in February and an additional 250 F-100As in August.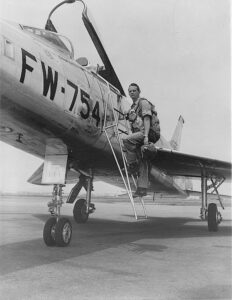 The YF-100A first flew on 25 May 1953, seven months ahead of schedule. "North American Aviation Chief Test Pilot George S. Welch took the YF-100A Super Sabre, U.S. Air Force serial number 52-5754, for its first flight at Edwards Air Force Base."(1) It reached Mach 1.04 on this first flight in spite of being fitted with a derated XJ57-P-7 engine.
The second prototype flew on 14 October 1953, followed by the first production F-100A on 9 October 1953. The USAF operational evaluation from November 1953 to December 1955 found the new fighter to have superior performance but declared it not ready for wide-scale deployment due to various deficiencies in the design. These findings were subsequently confirmed during "Project Hot Rod" operational suitability tests.(2)
(1) This Day in Aviation © 2017, Bryan R. Swopes
(2) Wikipedia