30 May 1949 – "Armstrong Whitworth Aircraft test pilot Jo O. Lancaster becomes first British pilot to save his life with an ejection seat when he bails out of experimental twin-jet flying wing Armstrong Whitworth A.W.52, TS363, out of Bitteswell, using "primitive" Martin-Baker Mk.1 seat, when an oscillation in pitch set in during a shallow dive from ~5,000 feet.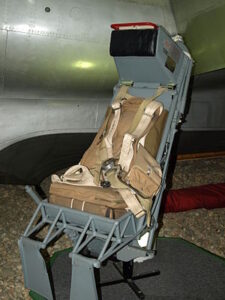 The plane which was on the secret list crashed in open country near Leamington Hastings. Jo Lancaster parachuted to safety and landed in a field at the rear of The Cuttle Inn at Long Itchington narrowly avoiding 'touch down' in the adjacent canal. It was the first-ever deployment of the Martin-Baker ejection seat in an in-flight emergency."
To see a video of the first Martin-Baker ejection seat click here.
Source: Wikipedia