10 November 1959 – The combination of a blizzard and a blocked runway at Malmstrom AFB, Great Falls, Montana lead to the loss of three Northrop F-89 Scorpion aircraft.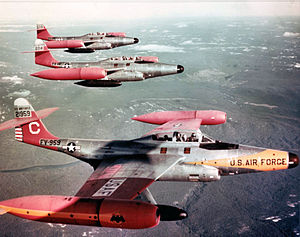 During the blizzard, the runway was unusable due to a Lockheed T-33 Shooting Star which had sheared its landing gear on touch down.
The Scorpions and an undisclosed number of other aircraft were returning to the base low on fuel and in near-zero visibility. Four were lost in two of the crashed planes while the two-man crew of the third parachuted to safety.
No one was injured in the T-33 incident.
Source: Wikipedia:Portal:Aviation