27 November 1957: "Four U.S. Air Force pilots of the 363rd Tactical Reconnaissance Wing successfully completed Operation Sun Run by establishing three new transcontinental speed records in a McDonnell RF-101C aircraft. The record-breaking mission showcased the speed and range of the RF-101C, an improved version of the first supersonic photo-reconnaissance aircraft, the RF-101A.
"Operation Sun Run called for six RF-101C aircraft — two to fly round-trip from Los Angeles to New York and back again, two for the one-way flight from Los Angeles to New York, and two for backups if problems arose with the four primary aircraft. The undertaking required massive coordination of aircraft crews and radar and weather stations from coast to coast.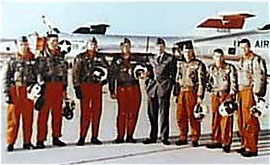 "At 6:59 a.m., 27 November 1957, Capt. Ray Schrecengost took off from Ontario International Airport near Los Angeles on the first RF-101C round-trip flight of Operation Sun Run. Next into the air were Capt. Robert Kilpatrick on his one-way flight and Capt. Donald Hawkins, flying back-up. Capt. Hawkins followed until the first refueling was complete, and then flew to March Air Force Base, Calif. At 7:50 a.m., Capt. Robert Sweet took off on the second round-trip flight. Lt. Gustav Klatt followed, beginning his one-way trip. Their backup, Capt. Robert Burkhart, also flew to March Air Force Base after the first successful refueling.
"All four RF-101C pilots easily surpassed the previous speed records and established new ones. The new Los Angeles to New York record was established by Lt. Klatt, at 3 hours, 7 minutes and 43.63 seconds. Capt. Sweet set the round-trip record, at a time of 6 hours, 46 minutes and 36.21 seconds, and the New York to Los Angeles record, at a time of 3 hours, 36 minutes and 32.33 seconds."
— Fact Sheets: Operation Sun Run, National Museum of the United States Air Force
Source: ThisDayinAviation.com c. Bryan R. Swopes