1 October 1956 – "The Experimental Aircraft Association (EAA) was founded in 1953 by a group of individuals in Milwaukee, Wisconsin, who were interested in building their own airplanes." On October 1, 1956, Chapter 2 was chartered in Ft. Wayne, IN.
"EAA Chapter 2 is the Fort Wayne area chapter of the Experimental Aircraft Association (EAA). Despite the name, EAA is not just for homebuilders; it's for anyone who has an interest in aviation. We support the aviation community through educational presentations and airport events. We also mentor student pilots and provide opportunities for licensed pilots to stay active and continue building their flying skills.
Monthly chapter meetings feature a variety of topics and guest speakers. We also visit aircraft that are under construction and other aviation-related facilities. We regularly show episodes of the EAA Chapter Video Magazine, which are informative video segments produced by EAA and available exclusively to chapters. These videos cover a wide range of topics from what's going on at EAA headquarters in Oshkosh, Wisconsin, to highlighting projects, chapter activities, or pilots from around the world.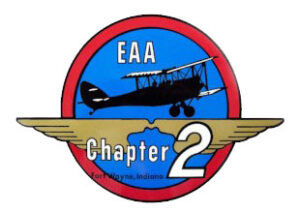 Chapter 2 is actively involved in the Young Eagles program, in which pilots donate their time and aircraft to give kids free airplane rides. For more information about the Young Eagles program, please visit our Young Eagles page. It's a great way to promote aviation, have fun flying, and give back to the community!
Join EAA Chapter 2! Meet great people, share your love of aviation and help grow the aviation community. Our dues are only $20/year for an individual membership and $30/year for a family membership. First-time members may pro-rate their dues for the amount of time left in the current year."
For more go to EAA Chapter 2 – Join Us! (eaa2.org)