7 October 1963 – The first prototype Learjet a mass-produced business jet takes off in Wichita, Kansas on its maiden test flight.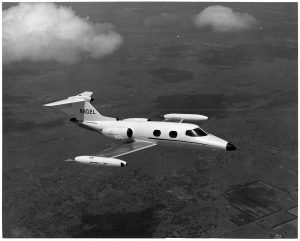 The Learjet 23 (originally Lear Jet 23) is an American built six-to-eight-seat (two crew and four to six passengers) twinjet, high-speed business jet manufactured by Lear Jet. Production began on the first Model 23 Lear Jet on February 7, 1962. The first flight took place on 7 October 1963 with test pilots Hank Beaird and Bob Hagen.[2] Although the prototype crashed in June 1964 the Lear Jet 23 was awarded a type certificate by the Federal Aviation Administration on 31 July 1964. On October 13, 1964, the first production aircraft was delivered.
Production ended in 1966 after 101 aircraft had been delivered.