24 September 1959 – "A Lockheed U-2C, 56-6693, Article 360, of the SAC's 4028th Strategic Reconnaissance Squadron (SRS), Detachment C, out of Atsugi Air Force Base, Japan, and clandestinely operated by the CIA, runs out of fuel and pilot Tom Crull makes an emergency landing at the civilian airfield at Fujisawa, damaging [the] belly.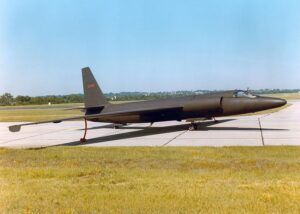 The black-painted aircraft with no identity markings attracts curious locals, and officials and Military Police are quickly dispatched to cordon off the area. This they do at gunpoint, which attracts even more attention and pictures of the highly secret U-2C soon appear in the Japanese press.
Factory repaired and assigned to Detachment B, this is the airframe that pilot Francis Gary Powers will be shot down in on 1 May 1960.
The 20th U-2 built; it was delivered to the CIA on 5 November 1956. [It was] Used for test and development work from 1957 to May 1959. Converted to U-2C by 18 August 1959. "
Here's a cool video of a chase car behind a U-2 landing. 
Source: flight.org