29 September 1954 – The North American F-100 Super Sabre entered service with the United States Air Force's 479th Fighter Wing.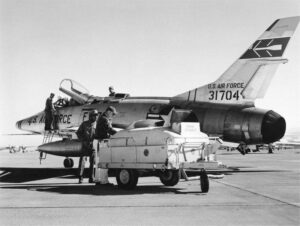 Initially, the new wing maintained tactical proficiency with the World War II-era F-51Ds inherited from the Air National Guard, then in February 1953 upgrading to the North American F-86H Sabre jet aircraft.
The wing was chosen to be the first USAF wing to be equipped with the North American F-100A Super Sabre, receiving its first aircraft in November 1953. The 479th became operationally ready with the F-100A on 29 September 1954.
However, the F-100A had been rushed into service with unseemly haste, often over the objections of Air Force flight crews who found the Super Sabre had serious problems that were not being adequately addressed. Disaster struck on 12 October 1954. On that day, veteran test pilot George Welch was carrying out a maximum performance test dive followed by a high-G pullout with the ninth production F-100A (52-5764) when his aircraft disintegrated in midair. Deficiencies were found with the design of the airplane and modifications were made.
Source: Wikipedia