5 September 1983 – A flight of McDonnell Douglas F-4E Phantom II fighter bombers was crossing the Atlantic Ocean en route to Europe. A Strategic Air Command Boeing KC-135A Stratotanker of the 42nd Air Refueling Squadron, Loring  AFB, Maine,  was sent to rendezvous with the bombers for refueling.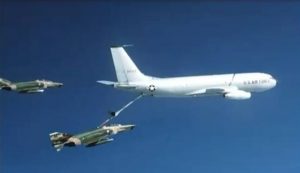 One of the F-4's began to lose power and then it's hydraulic system causing the pilot to have difficulty keeping up with the tanker. The F-4's second engine began to overheat and the two Phantom's stayed at just below the tanker's landing speed so the jet could keep up.
As the F-4 lost more power, the angle of the boom exceeded the mechanical limits, and the Phantom was forced to abort refueling. The fighter jet was in serious difficulty and unlikely to be able to remain in the air for much longer. It was decided that the Phantom should head for Newfoundland. "Captain Robert J. Goodman, U.S. Air Force, aircraft commander of the Stratotanker, decided to escort the crippled fighter which continued to lose altitude. 3 additional attempts to refuel the jet were made and at some point, the tanker actually towed the fighter back to altitude.
With the help of the tanker, the Phantom II finally arrived at Gander and landed safely."
For their efforts to save the lives of the crew of the F-4E, Captain Goodman and his crew, Captain Michael F. Clover, 1st Lieutenant Karol F. Wojcikowski and Staff Sergeant Douglas D. Simmons, Crew E113, were awarded the Mackay Trophy "For outstanding achievement while on a routine refueling mission involving F-4E aircraft, saving a valuable aircraft from destruction and its crew from possible death."(1)
The Mackay Trophy which is awarded annually for "the most meritorious flight of the year by an Air Force person, persons, or organization." It is kept at the Smithsonian Institution, National Air and Space Museum.
Source: Bryan R. Swopes, This Day in Aviation c. 2018