Don Richard Emigholz, Sr.
Date of Birth: July 1, 1930
Headed West: February 19, 2021
Highest Military Grade Held: 0-5 – Lieutenant Colonel
Flying right wing on the Skyblazers, with Bill Creech leading, was like a dream. He was so smooth, it was unbelievable, and not once, during all the practices and shows, did he dump the stick.
I've had my share of pucker time flying the Atlantic and Pacific in single-engine jets with no autopilot and got shot at and missed and shot at and hit, in Nam.
I've dead sticked a couple of Super Sabres, one at Bitburg and the other over Paris: It gets real quiet. And if I had to do it all over again I would not change a thing. The joy of flying and fighting with the greatest bunch of pilots in this whole wide world is an experience reserved for some of the chosen few.
Don Emigholz (LtCol USAF, Ret) "Headed West" on February 19, 2021.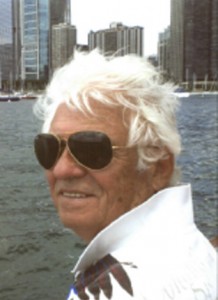 Don's record of service spanned from 1953 February 02 to his Separation date of 1980 January 31. (Honorable)
He was an Air commander for 2 years, Pilot, special tactics fighter 3 years, Air operations officer 5 years, Pilot, Tactical fighter 17 years and 2 months.
Don flew the F-100C from 1956-1957 with the Skyblazers, at Bitburg AB in Germany (he was the last of the Skyblazers and was inducted into the Thunderbird acrobatic team alumni. He was Flight Commander with the 1st FDS, 306th FDS, and 309th FDS where he flew the F-100D out of George AB in California from 1957-1961.
He flew the F-100 D&F with the 31st TFS out of Homestead AFB in Florida from 1961-1963. Throughout his career, he flew the T-33, F-80 A/B. F-84 E/F, F-100 C/D/F, O-1, A-1 H/E and the F-4 C/D.
Don was well-liked in the F-100 community and will be missed.
He was a long-time resident of Las Vegas and is survived by his wife Dorothy and children Don Jr and Dana.
Services were held with full military honors on March 18, 2021, at Boulder City Veteran's Cemetery.
1953 Instrument School, Moody AFB, GA (T-33)
1953 Gunnery School, Tyndall AFB, FL (F- 80A/B)
1953-1956 22nd Fighter Day Squadron (FDS), Bitburg AB, GE (F-84E, F 86F)
1956-1957 Right Wing, Skyblazers, Bitburg AB, GE (F-100C)
1957-1961 Flight Commander, 1st FDS, 306th FDS, 309th FDS, George AFB, CA (F-100D)
1961-1963 Wing DOT, 31st Tactical Fighter Wing, Homestead AFB, FL (F-100D/F)
1964 Chief of Stan Eval, I ASOC/34th Tactical Group, DaNang/Bien Hoa, RVN (T-28, O-1, A-1H/E)
1965-1968 Flight Commander, Operations Officer, 10th TFS, Hahn AB, GE (F-100D/F. F-4D)
1968-1969 Flight Cdr, Instr Pilot for IP's, 4453rd Combat Crew Training Squadron, 4454th CIS, Davis Monthan AFB, AZ (F-4C)
1969-1970 Operations Officer, 7th Tactical Fighter Squadron (TFS), Spangdahlem AB, GE (F-4D)
1971-1972 Det 1/CC, 401st Tactical Fighter Wing, Spangdahlem AB, GE (F-4)
1973-1975 81st TFS/CC (Wild Weasels), Spangdahlem AB, GE (F-4C)
1976-1980 Director of Systems Test, TFWC, Nellis AFB, NV
1/31/1980 Retired USAF

Air Medal with 5 Oak Leaf Clusters

Air Force Commendation Medal

Vietnam Service Medal with Oak Leaf Cluster

National Defense Service Medal with Oak Leaf Cluster

Armed Forces Expeditionary Medal

AF Longevity Service Award with 6 Oak Leaf Clusters

Small Arms Marksmanship Award

Combat Crew Badge AFR900-48
T-33
F-80 A/B
F-84 E
F-86 F
F-100 C/D/F
O-1
A-1 H/E
F-4 C/D
Military & Civilian Education
Military Education:
Squadron Officers School
Armed Forces Staff College
Combined Air Warfare Course
Civilian Education: