Nickname/Call Sign: Misty 118
Date of Birth: May 2, 1939
Highest Military Grade Held: 0-6 – Colonel
Hometown: Fort Valley, GA
Jerry Hallman was born on May 2, 1939, in Fort Valley, Georgia. He was commissioned a 2d Lt in the U.S. Air Force through the Air Force ROTC program at Auburn University on March 16, 1963, and went on active duty beginning April 21, 1963. Lt Hallman next completed Undergraduate Pilot Training and was awarded his pilot wings at Moody AFB, Georgia, in May 1964, followed by service as a flight instructor with the 3617th Pilot Training Squadron and as an academic instructor with the 3615th Student Squadron at Craig AFB, Alabama, from May 1964 to April 1968.
After completing F-100 Super Sabre Combat Crew Training, Capt Hallman served as an F-100 pilot with the 510th Tactical Fighter Squadron at Bien Hoa AB, South Vietnam, from December 1968 to September 1969, and during this time he flew as a Misty Fast FAC F-100F pilot from May to September 1969. His next assignment was as a Flight Test Officer for the Defense Contract Administration Services Office of the Defense Supply Agency at Wichita Municipal Airport, Kansas, from November 1969 to February 1973, followed by service as an O-2 Milirole Forward Air Controller with the 22nd Tactical Air Support Squadron and as an Air Liaison Officer with the 25th Infantry Division at Wheeler AFB, Hawaii, from February 1973 to June 1976. Maj Hallman attended Army Command and General Staff College at Fort Leavenworth, Kansas, from June 1976 to June 1977, and then served as an A-7 Corsair II pilot and as an Operations Officer with the 314th Air Division at Osan AB, South Korea, from July 1977 to July 1978.
His next assignment was as an A-7 pilot with the 76th Tactical Fighter Squadron of the 23rd Tactical Fighter Wing at England AFB, Louisiana, from July 1978 to October 1981, followed by service as an A-7 pilot and as an Air Force Advisor to the Virginia Air National Guard with the 192nd Tactical Fighter Group at Richmond, Virginia, from October 1981 to March 1984. From March to June 1984, Col Hallman served as Deputy Commander of Joint Task Force Alpha and Commander Air Force Forces Honduras. He next served as an A-7 and F-16 Fighting Falcon pilot, as Director of Inspection in the Office of the Inspector General, and as Director of Reserve Force Readiness with Headquarters 9th Air Force at Shaw AFB, South Carolina, from July 1984 until his retirement from the Air Force on June 1, 1987.
After leaving the Air Force, Jerry flew with American Airlines as a Boeing 727 pilot before working as a Real Estate Broker until his retirement in 1999. Jerry Hallman was Misty 118.
"After enjoying every second of the Air Force, I did not enjoy the Airlines. Moved to Nebraska and was a Real Estate Broker with over 80 Agents until I retired to Hilton Head Island, SC in 1999." – Jerry Hallman
Source: Veteran Tributes
Jerry A. Hallman (Col USAF, Ret) "Headed West" on July 8, 2018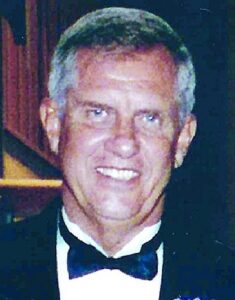 Colonel Jerry A. Hallman, having fought a six-week battle with lung cancer, died peacefully at home in Gulfport, Florida, on July 8, 2018, surrounded by love. Jerry was born on May 2, 1939, in Fort Valley, Georgia and graduated in 1957 from Fort Valley High School.
In 1963, he graduated from Auburn University and received his commission as a 2nd Lieutenant in the United States Air Force. Aiming high, he won his pilot wings in 1964 and proudly served his country twenty-four years as a fighter pilot. While serving in Vietnam as a Misty FAST FAC F-100 pilot, Captain Jerry Hallman was awarded the Distinguished Flying Cross for extraordinary achievement in a close air support mission that saved many lives.
Colonel Hallman completed his military career as Director of Inspection in the Office of the Inspector General, and as Director of Reserve Force Readiness. One particular assignment during that time led him to Nebraska, where he crossed paths with a certain Lieutenant Colonel Bonnie Carney. She became the love of his life and their 32-year marriage was full of family, faith, laughter and adventure.
He relished a great game of golf and captaining his boat, "Flying High." His playful shenanigans were famous among his kids, grandkids, great-grands, nieces and nephews. He cherished his friends and comrades and his loyalty to God, family and country was evident to all.
Jerry was preceded in death by his parents, James Hubert Hallman and Sarah Estelle Hallman. In addition to Bonnie, Jerry is survived by his children: Kimberly (Bob) Busby, Jeffrey (Joanne) Hallman, Stephani (Jeff) Wyatt, Jennifer Noble, Christine Carney and Julianne Carney. Jerry delighted in his grandchildren: Brandon (Michelle) Maldonado, Brooke Busby, Jason Busby, Jessica Brentnall, Jackson Noble, Avery Noble, Piper Noble, June Carney, and great-granddaughter, Brinlee Maldonado.
Jerry is also survived by his sister, Dena Patterson, brother-in-law, Joel and their daughter and grandchildren, Amanda, Cameron and Carly Smith.
Services to remember and celebrate Jerry's life were held on  August 19 at 3 PM. He was laid to rest at Arlington National Cemetery with full military honors.
Memorial contributions in his honor would be gratefully received at the EOD Warrior Foundation www.eodwarriorfoundation.org, 701 John Sims Pkwy E, Ste 305, Niceville, FL 32578.
Published by The Island Packet on Jul. 22, 2018.
3/16/1963 Entered Air Force through ROTC
1963-1964 UPT Moody AFB, GA (T-37. T-33)
1964-1968 ATC Instructor Craig, AFB, AL (T-37)
1968 F-100 Training, Luke AFB, AZ (F-100 C/D/F)
1968-1969 510th Tactical Fighter Squadron, Bien Hoa, AB, Vietnam (F-100)
5/1969-8/1969 Commando Sabre (Misty) Tuy Hoa, AB, Vietnam (F-100F)
1970-1974 DCASO Wichita, KS (All Cessna's, Beech, and Helio's)
1974-1977 25th Infantry Division (ALO) Hawaii (O-2A)
1977-1981 76th Tactical Fighter Squadron/23rd Tactical Fighter Wing, England AFB, LA (A-7D)
1981-1984 Virginia ANG Advisor Richmond, VA (A-7D)
1984 CC AF JTF Honduras
1985-1986 9th AF Director IG Shaw, AFB, SC (A-7 D, Flew in F-16)
1986-1987 9th AF Director Air Ops Shaw, AFB, SC (A-7 D Flew in F-16)
Civilian
1987 American Airlines Texas 727

Distinguished Flying Cross

Defense Meritorious Service Medal

Meritorious Service Medal with Oak Leaf Cluster

Air Medal with 2 Silver 1 Bronze Oak Leaf Cluster

Joint Service Commendation Medal

Air Force Commendation Medal

Air Force Outstanding Unit Award

Combat Readiness Medal with Oak Leaf Cluster

National Defense Service Medal

Vietnam Service Medal with 4 Bronze Stars

Korean Defense Service Medal

Air Force Overseas Ribbon Short Tour with Oak Leaf Cluster

Air Force Overseas Ribbon Long Tour

Air Force Longevity Service Medal

Small Arms Marksmanship Award

Air Force Training Ribbon

Vietnam Gallantry Cross with Palm
T-37
T-33
F-100 C/D/F
O-2A
A-7D
F-16
727
Military & Civilian Education
Military Education:
6/1976-6/1977 Army Command and General Staff College,  at Fort Leavenworth, KS
Civilian Education:
1963 BS, Auburn University
MBA Pepperdine University