Lewis S. Daugherty
---
Preferred Name: Lew
Nickname/Call Sign: Lew
Date Of Birth: August 14, 1930
Highest Military Grade Held: Colonel, O6
Hometown: Endicott, NY
Biography
Lew Daugherty graduated from Vestal High School in 1948. He then received a Bachelor of Science Degree in Agriculture and a commission as a 2dLt. in the Air Force at Cornell University in 1952.
That same year Lewis joined the U.S. Air Force and shortly thereafter married Caryl Sue Dunn from Champaign, IL in 1953.  After pilot training, he spent four years as a T-33 Instructor Pilot. He flew F-100s in England before going to Vietnam where he flew the A-1 Skyraider.
Col. Daughterty and his family lived in many places including England, Spain, and Germany, and then in 1965, he went to Vietnam where he flew the Skyraider providing close air support and interdiction to U.S. troops.
He was one of the first to fly the "SANDY" mission searching for downed aircrews in Laos and North Vietnam covering the JOLLY GREEN helicopters during their rescue attempts.  Subsequently, he flew the F-4 at Davis-Monthan AFB.  His military career culminated as Squadron Commander of an F-4E Fighter Squadron in Spain.
Col Daugherty spent a total of 20 years in the Air Force retiring in 1972. Once out of the Air Force, he flew with commuter airlines and sprayed cotton in Arizona. From 1978-79 he went to the University of Arizona receiving an MSC degree in Agriculture Economics where he did teaching and research for the next 17 years.
Units Assigned
1956- 1959 T-33 Instructor at Laredo AFB, TX (T-33)
1959-1962, 55th Tactical Fighter Squadron/20th Tactical Fighter Wing, RAF Wethersfield, UK (F 100D/F)
1962-1965 Maintenance Staff, HQ TAC, Langley AFB, VA
1965-1966 Skyraider Pilot, Viet Nam (F-4)
9/1965 First USAF Sandy Mission Commander/F4 Instructor, Davis-Monthan AFB, AZ
1966-1969 Combat Crew Training
1969-1971 307th Squadron Commander, at Torrejon AB, Spain (F-4E)
Nuke Alert, Incirlik AB, Turkey
1972 retired USAF
Flight Info
T-33
F-100 D/F
F-4 E
Military Education
Squadron Officers School
Armed Forces Staff College
Civilian Education
1952 BS/Agriculture, Cornell University, NY
1979 MSC/Agriculture Economics, University of Arizona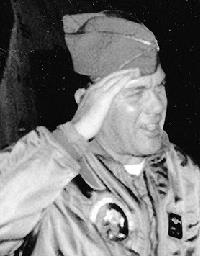 Colonel Lewis Stanley Daugherty "Headed West" October 16, 2018
Colonel Lewis Stanley Colonel Lewis Stanley Daugherty died at home in Tucson, AZ due to complications from tongue cancer. He had recently turned 88.
Col. Daugherty was born August 14, 1930, in Endicott, NY to his parents, Joseph Miles Daugherty and Alice Mildred Daugherty. He attended elementary school in Maine, NY and graduated from Vestal High School in 1948, graduating from Cornell University in 1952, where he majored in agriculture.
The same year Lewis joined the U.S. Air Force as a 2nd Lt. and shortly thereafter married Caryl Sue Dunn from Champaign, Il in 1953. Col. Daughterty and his family lived in many places including England, Spain, and Germany, and then in 1965, he went to Vietnam where he flew the Skyraider providing close air support and interdiction to U.S. troops.
Col Daugherty spent a total of 20 years in the Air Force retiring in 1972. From 1978-79 he went to the University of Arizona receiving an MSC degree in Agriculture Economics where he did teaching and research for the next 17 years.
Col Daugherty is survived by his wife, Caryl of 65 years and daughters, Luanne Haydu (John), Pamela Toulouse (Don), and Judy Tatum (Danny). He is also survived by 11 grandchildren and 13 great-grandchildren. A Celebration of Life was held at the Arizona Inn, Saturday, October 27th.

Published in the Arizona Daily Star on Oct. 21, 2018

Biography

Lew Daugherty graduated from Vestal High School in 1948. He then received a Bachelor of Science Degree in Agriculture and a commission as a 2dLt. in the Air Force at Cornell University in 1952.
That same year Lewis joined the U.S. Air Force and shortly thereafter married Caryl Sue Dunn from Champaign, IL in 1953.  After pilot training, he spent four years as a T-33 Instructor Pilot. He flew F-100s in England before going to Vietnam where he flew the A-1 Skyraider.
Col. Daughterty and his family lived in many places including England, Spain, and Germany, and then in 1965, he went to Vietnam where he flew the Skyraider providing close air support and interdiction to U.S. troops.
He was one of the first to fly the "SANDY" mission searching for downed aircrews in Laos and North Vietnam covering the JOLLY GREEN helicopters during their rescue attempts.  Subsequently, he flew the F-4 at Davis-Monthan AFB.  His military career culminated as Squadron Commander of an F-4E Fighter Squadron in Spain.
Col Daugherty spent a total of 20 years in the Air Force retiring in 1972. Once out of the Air Force, he flew with commuter airlines and sprayed cotton in Arizona. From 1978-79 he went to the University of Arizona receiving an MSC degree in Agriculture Economics where he did teaching and research for the next 17 years.

Units Assigned

1956- 1959 T-33 Instructor at Laredo AFB, TX (T-33)
1959-1962, 55th Tactical Fighter Squadron/20th Tactical Fighter Wing, RAF Wethersfield, UK (F 100D/F)
1962-1965 Maintenance Staff, HQ TAC, Langley AFB, VA
1965-1966 Skyraider Pilot, Viet Nam (F-4)
9/1965 First USAF Sandy Mission Commander/F4 Instructor, Davis-Monthan AFB, AZ
1966-1969 Combat Crew Training
1969-1971 307th Squadron Commander, at Torrejon AB, Spain (F-4E)
Nuke Alert, Incirlik AB, Turkey
1972 retired USAF

Flight Info

T-33
F-100 D/F
F-4 E

Military Education

Squadron Officers School
Armed Forces Staff College

Civilian Education

1952 BS/Agriculture, Cornell University, NY
1979 MSC/Agriculture Economics, University of Arizona

Colonel Lewis Stanley Daugherty "Headed West" October 16, 2018
Colonel Lewis Stanley Colonel Lewis Stanley Daugherty died at home in Tucson, AZ due to complications from tongue cancer. He had recently turned 88.
Col. Daugherty was born August 14, 1930, in Endicott, NY to his parents, Joseph Miles Daugherty and Alice Mildred Daugherty. He attended elementary school in Maine, NY and graduated from Vestal High School in 1948, graduating from Cornell University in 1952, where he majored in agriculture.
The same year Lewis joined the U.S. Air Force as a 2nd Lt. and shortly thereafter married Caryl Sue Dunn from Champaign, Il in 1953. Col. Daughterty and his family lived in many places including England, Spain, and Germany, and then in 1965, he went to Vietnam where he flew the Skyraider providing close air support and interdiction to U.S. troops.
Col Daugherty spent a total of 20 years in the Air Force retiring in 1972. From 1978-79 he went to the University of Arizona receiving an MSC degree in Agriculture Economics where he did teaching and research for the next 17 years.
Col Daugherty is survived by his wife, Caryl of 65 years and daughters, Luanne Haydu (John), Pamela Toulouse (Don), and Judy Tatum (Danny). He is also survived by 11 grandchildren and 13 great-grandchildren. A Celebration of Life was held at the Arizona Inn, Saturday, October 27th.

Published in the Arizona Daily Star on Oct. 21, 2018