Date of Birth: January 3, 1938
Headed West: January 31, 2019
Highest Military Grade Held: 0-6 – Colonel
Hometown: Baton Rouge, LA
In my career I flew the T-34, T-37, T-33, T-38, F-100 C/D/F, F-105 D/F and had one ride in the wonderful F-15 when I was 63. Sierra Hotel!
My wife, Glenda, and I thoroughly enjoyed our 21 1/2 years in the Air Force where we made wonderful friends with so many people  Yes, there were some hardships like having to move every few years and putting your household goods in storage and finding new schools.
It was particularly hard on Glenda when I was shot down and captured.  But like many other military wives, she rallied.  She moved from Japan to Baton Rouge and raised our son who was 6 years old at the time and our daughter who was 3. She had to be both Mom and Dad.  Not only did she buy a house, but earned a degree in Elementary Education from LSU.  When I was Commander of the 357th TFS, she was fondly called "the Little General".
I am proud to have served my country during some very difficult times.  I had to learn you don't lose until you quit trying.  Paraphrasing Shakespeare, "He who sheds his blood with me shall forever be my brother".
After retirement, I was Vice President for Development and International Marketing at Cypress international in Alexandria, VA representing several U.S. and foreign defense firms.  In 1990, my alma mater, Tulane, offered me a position as Director of Development for Athletics.
Since I had played football there, it was a dream job.  I retired in 2000 after 10 years.  I was honored to be inducted into Tulane's Athletic Hall of Fame.  I was also inducted into the Hall of Fame at my high school, Baton Rouge High.  I now spend several hours a day dreaming of flying!!!
Murphy Neal Jones, (Col USAF, Retired) "Headed West" on January 31, 2019.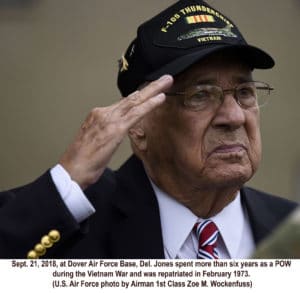 Colonel Murphy Neal Jones passed away on Thursday, January 31, 2019, surrounded by his loving family.  Neal was 81 years old and a resident of Magnolia, Delaware.  He was born in Baton Rouge, LA, and graduated from Baton Rouge High School.  He went on to attend Tulane University on a football scholarship and was first-string varsity center and linebacker for three years.  He was a member of the Air Force ROTC program and graduated in 1960.  Upon graduation, he was commissioned as a 2nd Lieutenant in the United States Air Force.
Neal is survived by his beloved wife of more than 60 years, Glenda Blythe Jones also from Baton Rouge.  They were blessed with two children, Murphy Neal Jones, Jr. who preceded him in death, and Darla Jones Murphy.  Darla is married to Jim Murphy of Wilmington, DE.
Neal is also the grandfather of three granddaughters: Lauren Murphy Gleason, married to Mark Gleason of Hoboken, NJ, Ashley Murphy, and Kennedy Murphy.  He also has one grandson, Neal Cameron Jones, married to Dr. Karen Lee, and a great-granddaughter, Rowan James Gleason.  His parents were Louie A. Jones and Lulu Jones, both deceased.  He has a brother, James Al Jone,s and a sister, Ann Jones (deceased), both from Baton Rouge.
Colonel Jones served in the Air Force for twenty-one and a half years.  He received his pilot wings in 1961 and flew the F-100, F-105, and the A-7D during his career.  On his third combat tour in Vietnam, he was shot down and captured on the outskirts of Hanoi on June 29, 1966, during the first bombing raid on that city.  He was wounded by shrapnel in both legs when his F-105 was hit.  Neal received a dislocated shoulder, a broken arm, and six fractured vertebra when he ejected at approximately 300 feet at over 620 miles per hour.  He was severely tortured for several days.  The Vietnamese refused to repair his broken arm for four and a half years.  Neal was finally released on February 12, 1973, after being held as a prisoner of war for 2,421 days.
Neal attributed his survival in Vietnam to a deep faith in God, faith in America, faith in his wife and family, and faith in his fellow prisoners.  These "faiths" helped to build a tremendous faith in himself.
Neal returned to the cockpit after his release and served as Commander of the 357th Tactical Fighter Squadron and as Chief of the War and Mobilization Planning Division, Headquarters United States Air Force.  After retirement from the Air Force, he was a businessman in Washington, D.C. for eight years.  He returned to his beloved Tulane University in 1990 and served as Director of Development for Athletics until his retirement in 2000.  Neal is a member of Tulane's Athletic Hall of Fame as well as Baton Rouge High School's Hall of Fame.
His military decorations include the Silver Star, the Legion of Merit (2), the Distinguished Flying Cross, two Purple Hearts, the Bronze Star for Valor, the Air Medal (2), the Air Force Commendation Medal,  and the Prisoner of  War Medal.
He loved to fly, hunt, play golf, and fish.  He gave numerous motivational speeches throughout the country.   Neal was a member of several organizations: Freemasons, Sojourners, Quiet Birdmen, Order of Daedalians, Military Order of Purple Heart, Disabled American Veterans,  American Legion,  Military Order of Foreign Wars,  Air Force Association,  American ExPOWS,  NAMPOWS, Red River Fighter Pilots Association (River Rats), Super Sabre Society, and Toastmasters International.
Murphy Neal Jones was buried at Arlington National Cemetery in Washington, D.C. with full military honors.
Donations can be made in Neal's honor to one of his favorite charities listed below:
Tulane University, Athletics Department, by calling Tyler Kai, Director of Annual Giving, or through greenwaveclub.com/donate or mail gifts to Green Wave Club, 333 Ben Weiner Drive, Attention:  Green Wave Club, New Orleans, LA 70118; Wounded War Heroes, 2152 Highway 1, Raceland, LA, 70394; Ride of the Brotherhood, PO Box 1078, Lacombe, LA , 70445.
6/1960-12/1960 Class 62A Primary Pilot Trng, Graham AB, FL (T-34/T-37)
1/1961-8/1961 Basic Pilot Training Reese AFB, TX (T-33)
8/1961-1/1962 Luke AFB, AZ F-100 Fighter Training (F-100)
1/1962-3/1962 Nellis AFB, NV F-100 Fighter Training (F-100)
4/1962-9/1963 612th Tactical Fighter Squadron/Tactical Fighter Wing, England AFB, LA
9/1963-12/1963 Nellis AFB F-105 Training (F-105)
12/1963-6/1966  80th Tactical Fighter Squadron/8th Tactical Fighter Wing, Itazuke AB/Yokota AB, Japan (flew combat at Korat AB & Takhli AB, Thailand)
6/29/1966 POW/Shot Down , North Vietnam
2/12/1973 Released during Operation Homecoming
2/17/1973-8/1973 Keesler AFB Hospital, MS (recuperation & leave)
8/1973-12/19738 Armed Forces Staff College, VA
1/1974-3/1974 Randolph AFB  (recurrence flying T-38)
4/1974-7/1978 /357th Tactical Fighter Squadron/355th Tactical Fighter Wing (Commander 1975-'77)Davis-Monthan AFB, AZ
8/1978-3/1979 Air War College, Maxwell AFB, AL
4/1978-1/1980  Pentagon, Chief of War And Mobilization Division and Chairman of WRM Panel
1/1/1980 Retired from USAF

Distinguished Flying Cross
T-34
T-37
T-33
T-38
F-100 C/D/F
F-105 D/F
Military & Civilian Education
Military Education:
Squadron Officer School ( correspondence)
Command and Staff College (correspondence)
Armed Forces Staff College
Air War College
Civilian Education: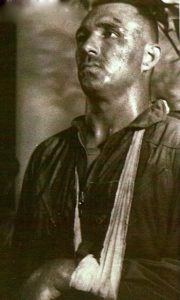 Captain Murphy Neal Jones
Shot Down: June 29, 1966
Released: February 12, 1973
USAF 333rd Tactical Fighter Squadron
Here is how Chris Hobson described it and the events of the day…"POL storage had become a regular target by the end of the month and on the 29th the heaviest raid so far on a POL target was made in two simultaneous strikes by 46 USAF and USN aircraft. Navy aircraft from the Constellation and the Ranger hit a storage site on the outskirts of Haiphong, while Air Force struck storage sites close to Hanoi.
This was the closest that raids had come to North Vietnam's two major cities. Major James H. Kasler, the operations officer of the 354th TFS planned and led the USAF strike force that consisted of F-105s from both Takhli wings. Some of the Thunderchiefs made more than one pass over the target and it was on Captain Jones' first pop-up to attack that his aircraft was hit by 85mm AAA. The aircraft quickly became uncontrollable and the pilot ejected just one mile north of Hanoi's Gia Lam airport.
"I was on my third tour of duty when I was shot down. Three other F-105s sustained battle damage on the strike at Hanoi."
Jones was wounded in the leg by shrapnel from the flak burst. He also sustained a compression fracture of his spine and a severely broken left arm when he ejected at a very low altitude and was not able to assume the correct ejection posture before his seat fired.
I was immediately captured by about 25 North Vietnamese. Shortly after capture, I was subjected to inhumane treatment during interrogation. That same night, I was forced to ride through the streets of Hanoi on a truck. There were times when I wanted to die to end this ordeal, but my faith in God, my country, my family and the American people gave me the strength to endure it. I considered myself very patriotic when I was captured, but the patriotism I felt at that time is only a fraction of what I feel now. There is no denying that we have some problems in our country, but it is still by far the greatest country in the world.
From what I have seen and what I have experienced in North Vietnam, it is my sincere belief that those brave men who did not return did not die in vain. God bless all of you for everything you have done for us and God bless our wonderful country.