Nickname/Call Sign: Cactus
Date of Birth: March 24, 1931
Headed West: November 11, 2005
Highest Military Grade Held: 0-5 – Lieutenant Colonel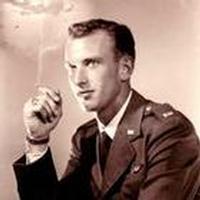 Paul Norman Cohagan (LtCol USAF, Ret) "Headed West" on November 11, 2005.
Paul Norman Cohagan, Sr., age 74 of Joplin, MO, passed away November 11, 2005, at a Bentonville health care facility.
Born March 24, 1931, in Joplin, he was the son of the late Claire G. Cohagan and Eva Landers Cohagan.  He served in the United States Air Force as a highly decorated pilot and retired in 1972 at the rank of Lieutenant Colonel.  He was a former member of the First United Methodist Church of Joplin, Robert S. Thurman American Legion Post No. 13, Reserve Officers Association, Air Force Association, and AOPA.  Paul will also join his brothers in arms on the new Air Force Memorial in Washington D.C.
Paul's love of life touched many people and his family included three children, Anne S. Cohagan Coleman and husband Joseph S. Coleman, their son, grandson and co-pilot to the Colonel William S. Coleman of Palestine TX, Dwain G. Cohagan of Indianapolis, IN, Paul N. Cohagan, Jr. of OKC, OK. Paul's late brother Jack D. Cohagan of Joplin MO, Dr. Donald L. Cohagan and wife Wylene of Bentonville and sister Luanne M. Cohagan Lindsey and husband Colonel Richard Lindsey US Army (Ret) of Rogers AR in addition to many nieces, nephews and his beloved friends and neighbors, particularly the Colson and Scholl families of Joplin MO.
The body will be cremated under the direction of Parker Mortuary of Joplin MO.  Niche-side services will be held with full military honors at Arlington National Cemetery in Virginia.
In his honor, the family asks your prayers and support for all American soldiers past and present that remain on constant vigil watching over and defending the freedom we celebrate daily.  For Lt. Col. Paul Norman Cohagan:
Oh!  I have slipped the surly bonds of Earth
And danced the skies on laughter-silvered wings;
Sunward I've climbed, and joined the tumbling mirth
Of sun-split clouds, – and done a hundred things
You have not dreamed of – wheeled and soared and swung
High in the sunlit silence.  Hov'ring there,
I've chased the shouting wind along, and flung
My eager craft through footless halls of air…
Up, up the long, delirious burning blue
I've topped the wind-swept heights with easy grace
Where never lark, or ever eagle flew –
And, while with silent, lifting mind I've trod
The high-untrespassed sanctity of space,
Put out my hand, and touched the face of God.
6/25/1956 Hq 312th Ftr Bmr Gp, Asst Ops Off, Clovis, NM, TAC (F-84)
8/26/1957 35th Fighter-Bomber Squadron, Itazuke, AB, Japan, PACAF (F-86)
2/17/1958 35th Fighter-Bomber Squadron, Itazuke, AB, Japan, PACAF (F-86)
7/15/1958 35th Fighter-Bomber Squadron, Itazuke, AB, Japan, PACAF (F-86)
9/14/1960 3345th Tech Sq, Stu Off Acft Maint Off Course, Chanute AFB, IL TAC
6/22/1961  522nd Ftr Sq, Acft Maint Off, Cannon AFB, NM TAC (F-100)
2/5/1962 TDY Dep 68-11 TUSLOG Incirlik AB, Turkey USAFE
6/22/1962 Acft Maint Off, 522nd Ftr Sq, Cannon AFB, NM TAC (F-100)
6/26/1962 27th Consol Acft Maint Sq, Flt Line Maint Off, Cannon AFB, NM TAC (F-100)
10/1/1962 27th Orgn Maint Sq, Acft Maint Off, Cannon AFB, TAC (F-100)
1/25/1963 Hq 27th TAC Ftr Wg, Production Control Off, Cannon AFB, NM TAC (F-100)
6/12/1964 27th Orgn Maint Sq, Flt Line Maint Off, Cannon AFB, NM TAC (F-100)
8/31/1964 Hq 27th TAC Ftr Wg, Work Loan Control Off, Cannon AFB, NM TAC (F-100)
6/18/1965 27th Orgn Maint Sq, Acft Maint Supv, Cannon AFB, NM TAC (F-100, T-33)
9/13/1965 481st Tactical Fighter Squadron, Cannon AFB, NM TAC (F-100)
1/12/1966 4516th CCR Training Squadron, Special Weapons Instr, Luke AFB, AZ TAC (F-100)
5/23/1966 4516th CCR Training Squadron, Academic Instr, Luke AFB AZ TAC (F-100)
10/7/1966 4516th CCR Squadron, OIC F-100 Academics, Luke AFB, AZ (F-100) w/Add Dy Comdr, 4511 OMS
4/19/1969 4516th CCR Training Squadron, Academic Instr, Luke AFB, AZ TAC (F-100)
Unit redesignated 58th Tactical Training Squadron
4/22/1970 58th TFTW, Flight Test Officer (Wg), Luke AFB, AZ TAC (F-100)
5/13/1970 58th Orgn Maint Squadron, Squadron Commander, Luke AFB, AZ TAC
9/14/1970  58th TFTW, Wing Maint Control Officer, Luke AFB, AZ TAC
1/31/1971 58th TTTW, Wing Maint Control Officer, Luke AFB AZ TAC
7/1/1971 OMS Commander, 2 OMS, Kunsan AB, Korea PACAF (U-6)
11/1/1971 314 Air Div, Staff Maint Officer Logistics, Osan AB Korea PACAF
1972 Retired USAF
Military & Civilian Education
Military Education:
Retired with Aeronautical Engineering Equivalency
Civilian Education:
Joplin High School, Joplin, MO