The JF-100C was originally constructed as F-100C-1A on 19 October 1954. On 24 October 1954 the aircraft now with serial number 53-1709 was taken on conditionally by the USAF since all F-100s at the time had been grounded pending the fitting of new vertical tails.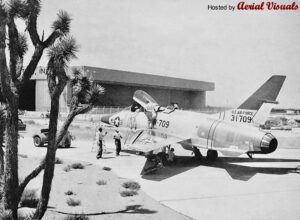 In January of 1955, JF-100C was piloted on it's first flight by NAA Test Pilot George Hoskins. Hoskins was the chief test pilot for North American Aviation. He would later be killed on 27 March 1963 on a test flight of a North American T-28A-NI Trojan, 52-1242, c/n 189-57, which had been converted to the first prototype RA-28, a proposed turboprop combat version for use in SE Asia. The aircraft crashed on its 14th test flight. Hoskins was unable to bail out due to a jammed canopy. The aircraft was not equipped with an ejection seat. That aircraft model was later redesignated North American YAT-28E.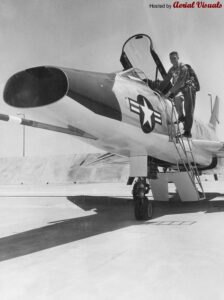 On 20 August 1955, Col Horace A. Hanes flew 53-1709 to Mach 1.246 at 12192 m over Edwards AFB, setting the first in history FAI supersonic world speed record of 1323 km/h.
After 1955, F-100 #53-1709 began it's journey as a test vehicle. It was Transferred to Ames Aeronautical Laboratory, NAS Moffett Field, CA, USA (Ames Research Center) and was modified for  variable stability tests, the first three-axis variable stability aircraft at Ames.
Them from November 1960 to March 1961 the aircraft was taken on Strength/Charge with the National Aeronautics and Space Administration and in 1962 was transferred to Langley Research Center, Langley Field, VA, USA, and operated with  markings NASA 25.
In September 1962 the plane was redesignated as JF-100C and transferred to Flight Research Center, Edwards AFB, CA, USA, where it was used for a range of airborne simulation studies, including some in support of the X-15 and SST programs.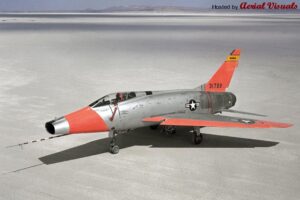 From March of 1964 the airplane was transferred to Ames Research Center, NAS Moffett Field, CA, USA. where it operated with markings: NASA 703 and was used to evaluate direct-lift control as an aid to air-to-air refueling.

Sometime in August of 1969 the F-100 had a certificate of airworthiness for N703NA (F-100C, 53-1709A) issued, and in August of 1969 it was transferred to the National Aeronautics and Space Administration at Moffett Field, CA with new c/r N703NA.
From September 1972 to 2004 the plane was homed at San Jose State University, CA, USA as an instructional airframe.
In August of 1974 the civil registration, N703NA was cancelled.
In 2004 the aircraft was redirected to Castle Air Museum, Castle Airport (formerly Castle AFB), Atwater, CA. In 2010 the markings were applied as FW-879, 52879, and the plane was painted as F-100D s/n 55-2879.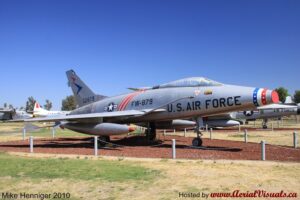 This airframe dossier was compiled by records of:
Federal Aviation Administration in the United States of America
This Day in Aviation by Bryan R. Swopes
United States Military Services Serial Number Lists by Joe Baugher
And Individual Contributors
Mike Henniger
Marcin Rogowski