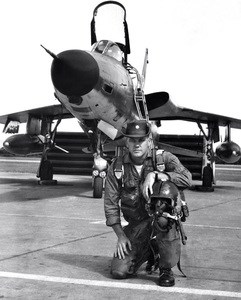 Colonel Harold A. ("Bud") Homan, U.S. Air Force (Retired), died on January 28, 2022 in Redding, California, at the age of 91. In military aviation parlance, he flew west for the last time. A fitting description, as there was nothing in the world he loved as much as looping through the skies in US fighter jets.
Bud was born in 1930 in Waverly, Iowa, the third child of Harold W. Homan and May Boeyer Homan. After graduating from Berlin (Wisconsin) High School in 1947, he worked as a test driver for Chevrolet. He enlisted in the U.S. Air Force in 1950. Bud completed Aviation Cadets, earned his pilot "wings" and was commissioned a Second Lieutenant in 1953. He was then stationed at Chaumont Air Base in France, where he flew F-84, F-86 and F-100 fighters, and also flew with the Skyblazers, the USAF aerobatic team for Europe. Bud then flew the F-105, first as an operational test pilot, then as a flight instructor and then in completing 100 combat missions as a "Wild Weasel" in the Vietnam War. He later graduated from the Air War College, served with the Joint Chiefs of Staff at the Pentagon and commanded the 25th Air Division, before retiring from the Air Force in 1981 after 31 years of service. Bud's decorations include the Silver Star, earned for valor in combat, the Defense Superior Service Medal, two Legion of Merit Medals, two Distinguished Flying Crosses, the Meritorious Service Medal, eleven Air Medals and two Air Force Commendation Medals. He also earned "Caterpillar" pins for surviving three ejections from military aircraft.
After retiring from the Air Force, he served as Director of Airports for the City of Redding, California for six years. Bud loved Redding and Shasta Lake and enjoyed fishing, gardening and playing with his dogs. Bud's wife of 23 years, Eileen, died in 2011. Bud was also preceded in death by his best friend and brother Alan Homan and sister Elaine Doubleday. Bud is survived by his daughter, Carolyn Gabbe of Maine; his three sons, Hal of Colorado, Bill and Tim of California; step-daughter, Kathi Reneer of California; six grandchildren and many nieces and nephews. Burial will be at Arlington National Cemetery.
Published by MilitaryTimes.com on Feb. 8, 2022.