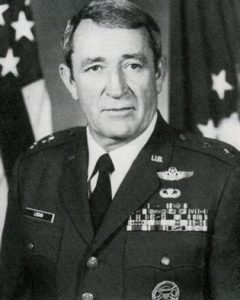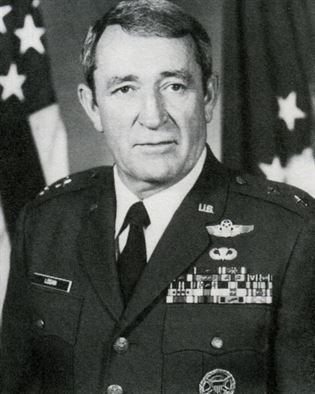 SSS member Al Logan headed west on Tuesday, May 10, 2016. He was a resident of Naples, Florida at the time of his passing. Services are pending at Arlington National Cemetery for Major General (Ret) Albert Lee Logan.
Al Logan was born in 1935, in Ravia, Okla., and graduated from Ravia High School in May 1953. He earned a bachelor of science degree from Oklahoma State University in 1957 and a master's degree in business administration from Auburn University in 1978. The general completed Squadron Officer School in 1965, Industrial College of the Armed Forces in 1974 and the Air War College in 1978.
He was commissioned through the Reserve Officer Training Corps program at Oklahoma State University in May 1957 and was called to active duty in October of that year. The general completed pilot training at Bartow Air Base, Fla., and Greenville Air Force Base, Miss., in November 1958.
After advanced tactical fighter training, he was assigned as a tactical fighter pilot, flying F-100s with the 523rd Tactical Fighter Squadron at Cannon Air Force Base, N.M., from October 1959 to April 1961. He then was assigned to the 22nd Tactical Fighter Squadron, 36th Tactical Fighter Wing, Bitburg Air Base, West Germany, flying F-105D's.
In December 1963 General Logan transferred to McConnell Air Force Base, Kan., where he served as an F-105 pilot and flight commander with the 563rd Tactical Fighter Squadron. During 1964 he completed airborne parachutist training at Fort Benning, Ga., and Air-Ground Operations Officer School. From April to August 1965 he deployed to Takhli Royal Thai Air Force Base, Thailand, and flew F-105 combat missions over North Vietnam.
General Logan was assigned to the Fighter Weapons School at Nellis Air Force Base, Nev., in January 1966 as an F-105, then as an F-4E, instructor pilot in air combat tactics. In August 1969 he returned to Takhli Royal Thai Air Force Base as a flight commander, flying F-105D's, with the 354th Tactical Fighter Squadron. He later served as chief of wing weapons and tactics, and chief, Combat Analysis Division, 355th Tactical Fighter Wing. From May 1970 until December 1972 the general was assigned as chief, Weapons and Tactics Division, 4th Tactical Fighter Wing, Seymour Johnson Air Force Base, N.C., flying F-4E's. He then transferred to Air Force headquarters as a tactical fighter special tactics air operations officer in the Directorate of Plans, working F-15s, F-16s and force structure.
He completed the Air War College in May 1978 and subsequently was assigned as deputy commander for operations of the 86th Tactical Fighter Wing, Ramstein Air Base, West Germany. In May 1979 he transferred to Headquarters U.S. Air Forces in Europe as director of fighter operations. In December 1979 he became executive officer to the commander in chief, U.S. Air Forces in Europe. While assigned to these positions, General Logan flew F-15s. He returned to Bitburg Air Base as vice commander of the F-15-equipped 36th Tactical Fighter Wing in January 1981. General Logan was assigned as commander of the 401st Tactical Fighter Wing, Torrejon Air Base, Spain, in January 1982 and managed the transition of the wing from F-4D's to F-16s. In July 1984 he became director of inspection, Headquarters Air Force Inspection and Safety Center, Norton Air Force Base, Calif. In March 1986 he returned to Air Force headquarters as deputy director of plans, Office of the Deputy Chief of Staff, Plans and Operations.
General Al Logan was a command pilot with more than 4,700 flying hours, including 200 combat missions in F-105D's. His military decorations and awards include the Legion of Merit with oak leaf cluster, Distinguished Flying Cross with two oak leaf clusters, Meritorious Service Medal with oak leaf cluster, Air Medal with 12 oak leaf clusters, Air Force Commendation Medal with two oak leaf clusters, Air Force Outstanding Unit Award with "V" device and two oak leaf clusters, Air Force Organizational Excellence Award, Combat Readiness Medal with three oak leaf clusters, National Defense Service Medal, Armed Forces Expeditionary Medal, Vietnam Service Medal with four service stars, Air Force Overseas Ribbon-Short, Air Force Overseas Ribbon-Long with two oak leaf clusters, Air Force Longevity Service Award Ribbon with six oak leaf clusters, Small Arms Expert Marksmanship Ribbon, Republic of Vietnam Gallantry Cross with Palm and Republic of Vietnam Campaign Medal.