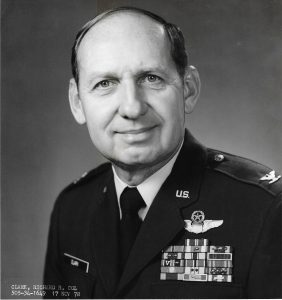 SSS Member Richard (Dick) Roscoe Clark Col, USAF, (Ret), headed west June 14, 2016 at his residence. He was born on May 19, 1931 in Lincoln, Nebraska to the late Roscoe Armond and Alice Louise Roscow Clark. Col Clark graduated from the University of Nebraska in 1955 with a BS degree in Electrical Engineering and a commission in the United States Air Force. After flying school, he flew the F-86 in Japan and Hahn, Germany before transferring to the F-100 as a Fighter Instructor Pilot at Luke AFB, Arizona. While there, he was sent to Tuy Hoa, Thailand where he flew 289 combat missions and 492 hours of close air support over South Vietnam from March 1968 through March 1969.
After returning from Vietnam, he again transferred airplanes to the A-37, which he flew out of England AFB, Louisiana. Col Clark's next assignment was at Edwards AFB, California, where he was the senior test pilot for the A-10 during the A-9/A-10 competition. He then did staff jobs at the A-10 System Management Office at Langley AFB, Virginia, and Air South, NATO in Naples, Italy before becoming Deputy Commander of Maintenance at Moody AFB, Georgia, where he finished his 30 – year career, still flying (the F-4 at this point).
During Col Clark's career he was awarded the Legion of Merit, a Distinguished Flying Cross, the Bronze Star medal, the Meritorious Service Medal, the Air Medal, the Air Force Commendation medal, Distinguished Presidential Unit Citation, the Air Force Outstanding Unit Award with Valor, and the Vietnam Service medal, just to name a few.
Upon his retirement, he settled in Valdosta where he was Airport Manager and Director of the Valdosta-Lowndes County Airport Authority. During his almost 11 years working at the Valdosta Airport, he obtained funding for and supervised the construction of a new $5.9M dollar Airline Terminal Complex before retiring in 1998. Col Clark was a member of the Park Avenue United Methodist Church, Military Officer's Association of America, and the Order of the Daedalians.
Survivors include his wife of 52 years, Jacqueline Clark of Valdosta; two sons and a daughter-in-law, David Richard Clark of Valdosta, and Steven Michael and Christine Clark of Plant City, Florida; a daughter, Anne Lauren Clark, Col, USAF, of Washington D.C.; grandchildren, Victoria Clark and Connor Clark of Plant City, Florida; a sister, Shirley, of Minnesota; a sister-in-law and her husband, Patricia and Denny Wigbert of Atlanta; two nieces and their spouses, Cindy and Shawn Reilly and Nancy and Tee Buckle. He was preceded in death by his brother, Bruce Clark.
Services for Col Richard (Dick) Roscoe Clark were held 0n June 21, 2016 in the chapel of the Carson McLane Funeral Home with Rev. David Tart officiating. The committal with military honors will take place at the McLane Riverview Memorial Gardens following the service.