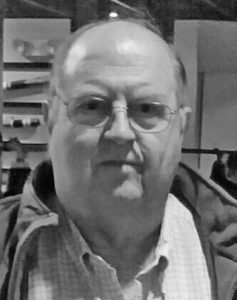 SSS Member Peter W. McCue III "Headed West" on December 12, 2020
Peter W. McCue III, 77, of Springfield, died at 11:23 a.m. on Saturday, December 12, 2020, at his residence. Pete was born on March 16, 1943, in Springfield, the son of Peter W., Jr. and Margaret (Knox) McCue.
Pete was a graduate of St. Bede Academy in Peru, IL. He served his country as an Air Force Fighter Pilot. Pete had formerly worked as a deputy for the Sangamon County Sheriff's Department. He then became a commercial airline pilot for Ozark Airline and later retired from TWA. After retirement, he earned a bachelor's degree in Management from the University of Illinois at Springfield. He was a devout Catholic and a member of the Cathedral of the Immaculate Conception. Pete was a 4th Degree Knight of Columbus with Bishop Griffin Assembly. He spent his spare time watching old western movies and sports, fishing, playing on the computer, and cheering on Notre Dame.
He was preceded in death by his son, Peter McCue IV, and his parents.
He is survived by his son, Matt (wife, Lisa) McCue of Illiopolis; one daughter, Ann (husband, Terrance) Brunn of Bangor, MI; 12 grandchildren; 7 great-grandchildren; two sisters, Margaret "Mopsy" (husband, Richard) Turasky and Sally (husband, Perry) Grieme; and several nieces, nephews, and cousins.
Cremation will be provided by the Lincoln Land Cremation Society.
Private family ceremonies will be held. Interment will be at Calvary Cemetery.
Memorial contributions may be made to EWTN, 5817 Old Leeds Rd., Irondale, AL 35210.
Source: https://www.lincolnlandcs.com/obituary/Peter-W.-McCue-III/Springfield-IL/1882668