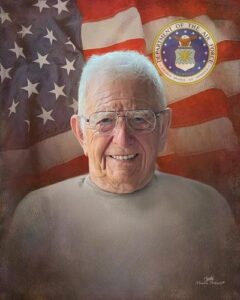 Allan Curt Crump, 92, died peacefully at home in Fort Smith, Arkansas on August 27, 2023. Allan was born on September 22, 1930 in Wichita Falls, Texas to Joel Chandler Crump of Wichita Falls, Texas, and Jim Henderson of Fort Smith, Arkansas.
He was raised in Wichita Falls, TX and Hutchinson, KS where his father, and later his mother, operated the Dr. Pepper Bottling Company. After graduating in 1951 from Wentworth Military Academy and Junior College in Lexington, MO, he attended college for 2 years in Munich, Germany.
In 1953, he graduated from the University of Arkansas with a Bachelor of Arts degree in Business Accounting. He served as a pilot in the Air Force from 1953 to 1957, then moved his family to Fort Smith in 1957 where he worked for and eventually bought the Dr. Pepper, 7up, and RC Cola Bottling Company (Henderson Corporation). He managed that until he retired in 1978. He retired as a Lieutenant Colonel after serving as a jet pilot for 28 years in the Arkansas Air National Guard 188th Wing in Fort Smith.
He was an avid supporter of civil rights and was a member of the Fort Smith Human Relations Council during the mid-sixties. He was a member of the U.S. Coast Guard Auxiliary, Flotilla 15-5, Fort Smith, since 1981, and held many positions at the District and National level. He had an adventurous spirit and loved to travel with family and treasured friends.
He was predeceased by his parents and his great-grandson, Riggs Milo Forster. He is survived by his wife, Maren; his brother Jim Wolfe of Greenwood, AR; his sisters Cynthia Wolfe of Little Rock, AR; Jean (Wolfe) Sizemore of Annapolis, MD; Lynn (Wolfe) Vest of Ozark, MO; his sons Allan Curt Crump, Junior (wife Sue) of Maumelle, AR; Gregory Chandler Crump of Oklahoma City, OK; his daughters Corinne Paule (Wanslow) Baker of Fort Smith, AR; Leslie Catherine (Wanslow) Kneeshaw (husband Don) of Gilbert, AZ; Julie Lenore Wanslow (husband Kenneth Shuster) of Arlington, VA; Sarah Stillman (husband Spencer) of Fort Smith, AR; and Michele Crooks (husband James) of St. Augustine, FL. He is also survived by his grandchildren Carey Elise Crump and Amy Elizabeth Crump of Oklahoma City, OK; Andrea Corinne Callahan of Tulsa, OK; Gina Marie (Butler) Forster (husband Alex) of Panama City, Panama; Hayley Warren (Baker) Heaton (husband Ryan); Nicole Mariah Dobson of Arlington, VA; Emma and Mason Stillman of Fort Smith, Maliah Crooks of Kansas City, MO; Mariah Crooks and Christian Crooks of St. Augustine; and his great-grandchild Rilo Judd Forster of Panama City, Panama. He is also survived by his foster son Sheldon Wang (wife Susan) and their children Anastasia and Amy of Fremont, CA.
Memorial services were held on August 31, 2023, with burial at Fort Smith National Cemetery.
In lieu of flowers, you may donate to the local U.S. Coast Guard Auxiliary, USCGAUX Flotilla 15-05, 3802 Grand Avenue, Fort Smith, AR 72901.
Obituary published on Legacy.com by Edwards Funeral Home on Aug. 29, 2023.