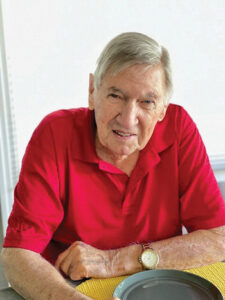 Charlie Copin, 89 years old, of Sun Lakes, Ariz., passed away on May 11, 2022. He is survived by his loving wife Jayne, married for 67 years. They were high school sweethearts, both growing up in Murphysboro, Ill.
After one year at Northwestern University on a football scholarship, the Korean War led him to a 26-year career in the USAF where he served as a jet fighter pilot. First Flight School and then marrying Jayne in their hometown in Southern Illinois, they started their Air Force journey in California with the F-100 as part of the newly formed Air Force. He and his family were subsequently stationed at AF bases in the U.S. and overseas. During his nine years in the Vietnam Conflict, he flew the F-105, F-4, and A-7D. Charlie was awarded many medals and ribbons, including the Distinguished Flying Cross, the Bronze Star Medal, AF Outstanding Unit Award, Meritorious Service Medal, Vietnam Service Medal with 3 Bronze Service Stars, Air Medal with 4-6 Oak Leaf Clusters, Air Force Commendation Medal with 1 Oak Leaf Cluster, National Defense Service Medal with Bronze Service Star, and more.
Charlie was a huge fan of the Peanuts comic strip, which was created in 1950, the year he graduated from high school. In 1965 the comic strip introduced Snoopy as a Flying Ace against the Red Baron. This provided many chuckles while reading the morning newspaper.
After retiring from the USAF in 1976 while living in Las Vegas, Nev., Charlie became a tax consultant for H&R Block. In 2003 he and Jayne moved to Sun Lakes, Ariz., to be near family.
Immediately upon arriving in Sun Lakes, Charlie found his community with the Oakwood Men's golf groups. For many years, he played in leagues in Sun Lakes. He was an athlete, playing many sports throughout his life, and remained an avid sports fan who enjoyed following his favorite teams.
He is survived by his wife Jayne (Roberts) and his three children: Janet (John), Patty (Mike), and Chuck (Cherie). He is also survived by his grandchildren: John (Holly), Brian (Anne Curtis), Lindsey (Christian), Curtis, and Kristen, and three great-granddaughters.
Charlie was a sweet, kind, humble man who loved his family, served his country, and ran the Race of Life well!