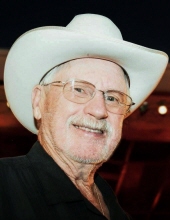 Colonel Lawrence D. Cobb II was born to Lawrence D. Cobb and Lucy E. Erichsen, on May 30, 1939. Lawrence was known by many names: Dad, Moto, Opa, Colonel, and most commonly, Dave.
After graduating from Clovis High School Dave attended Fresno State University, worked on the family ranch, and learned to fly. While at Fresno State Dave majored in Animal Husbandry, joined the Air Force ROTC, was on the Rodeo Team, Livestock Judging Team and Meat Judging Team. He was a Charter member of the Clovis Rotary Club in 1961. Dave graduated in 1962 and was commissioned a 2nd Lieutenant in the US Air Force.
For Dave, the highlight of those college years was marrying the former Carole Miller, Clovis High Class of 1959, in June of 1960. Together they had two sons, Lawrence David Cobb III and Leland Daniel Cobb. In 1962 the young family went to Arizona for two years of flying school and gunnery school. After that, it was off to Germany in April 1964 where Dave sat Nuclear Alert and had duties as the Squadron Weapons Training Officer. He was a member of the USAF NATO Gunnery Team in 1965 flying the F-105.
In early September of 1966, while in Libya, Dave received orders to Thailand. The family left Germany 2 weeks later, drove across the US and dropped Carole and the boys off in Tarpey Village. Dave left the States the day in November when Ronald Reagan was first elected Governor of California. Dave went on to fly over 100 missions over North Vietnam in the F-105, it was colorful to say the least, with the SAM's (Surface-to-Air-Missiles) and lots of AAA (Anti-Aircraft Artillery/ Enemy Fire). Dave earned the Distinguished Flying Cross with 3 Oak Leaf Clusters and the Air Medal with 11 Oak Leaf Clusters. One of his claims to fame was  landing the F-105 from a loop on his 100th mission. He believed he was the only fool to do that successfully. Dave returned to Travis AFB in late June of 1967 ending his tour of active duty.
At that time the cattle market was down, and Dave had 3 mouths to feed, so 6 months later he went to work for Pan American flying the Pacific and around the world routes. The great deal ended 2½ years later when he was furloughed for the following 4 years. Those years were spent pulling Air Defense Alerts with the Fresno Air Guard, back in the livestock business, and buying downtown Clovis property with family and old pals. Pan Am recalled Dave to New York in '74 and this time he flew Europe, Africa, and South American routes. He lasted until 1976, he was still at the back of the pack.
During the 2nd furlough which lasted 10 years, Dave flew at the Guard and was on the 1980 William Tell Gunnery team from Fresno that won the Championship against all comers. He flew Lear Jets, worked for two startup airlines as a Captain and Chief Pilot, and with the help of his banker stayed in the cow business.
In 1985, Dave went back on active duty, as Commander and Project Officer for putting an Air Guard project together that would ultimately involve 33 Air Guard units (the structure model continued to be used by the Air Force and Guard for composite units). Carole and Dave headed for Germany again in December 1985 after their two grandsons were born. It was to be a 6 year Honeymoon because PanAm recalled him and he was assigned to West Berlin after the Guard assignment at Ramstein AFB was completed. Dave was on top of the Berlin Wall that first morning in November 1989, a real thrill for a "Cold Warrior". Pan Am went "bust" December 1991, a month before Dave went with the North Atlantic routes and aircraft to Delta Air Lines. In 1998, Dave lost his FAA Physical for hearing (too much jet noise).
With his flying days over, he and Carole were free to move to Paradise Valley in Montana on January 1, 2003. Dave would say that "this place is as close to Paradise as a guy like me is likely to get!"
Dave passed away on November 24, 2022 surrounded by loved ones at his family ranch in Madera, Ca. He is survived by two sons, Lawrence David Cobb III, Leland Daniel Cobb and his wife Sheila L. Cobb; five grandchildren, Leland Daniel Cobb II, Kalen Cobb, Shonda Harrar, Savanna Johanson, Sadie Cobb, and nine great-grandchildren.
*Adapted from Dave's own written biography. from November 2018
He is buried in Clovis Cemetery.