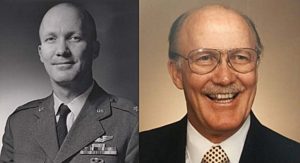 SSS Member Ben Frank Sands, Jr. saw the world through a 20-year career in the US Air Force, including a 12-month tour of Vietnam in 1966-67. He spent another two decades as a respected professor of management at George Mason University. He died February 14, 2019 at Inova Loudoun Hospital from complications following abdominal surgery.
The son of Ben Frank and Annie Carson Sands of Madisonville, TN, he attended Hiwassee College, leaving to join the US Army/Air Corps in 1946. The service took him to Japan during the Korean War followed by postings at Turner AFB in Albany, GA, Sidi Slimane in Morocco, Strategic Air Command in Omaha, NE and, finally the Pentagon.
Ben flew the F-100 from 1950-1956 with the 309th Fighter Escort Squadron/31st Fighter Escort Wing.