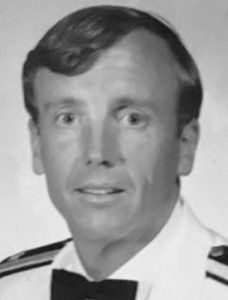 Carrol R. Johnson, Lt Col. USAF Ret. 79, of Apple Valley, Calif., died March 6, 2022. He was born on May 19, 1942, to Veteran Emery and Laurene Johnson and grew up on a farm south of Haddam.
Carrol was baptized and confirmed at Zion Lutheran Church, Brantford, and was a lifelong Lutheran. He attended country school for his first 4 years of grade school going first to Brantford School and then Weaver School. In 5th grade, he started attending school in Haddam where he continued until he graduated from Haddam Rural High School in May 1960. He attended college at Kansas State University and received his B.S. degree in Electrical Engineering in May 1964.
Carrol moved to Tacoma Park, Md., after receiving his B.S. degree and spent the next 3 years working in his chosen field. In 1967 he joined the United States Air Force. Carrol attended Officer's Training School and then went on to Flight Training and received his wings in May 1968. He had one tour of duty in Vietnam as a fighter pilot flying the F100. On his return from Vietnam, he was stateside briefly before being stationed at Zweibrucken Air Force Base in Germany.
While there he met and married Judy Hastings from Warwick, Rhode Island, on Dec. 22, 1973. Carrol remained in the USAF for 20 years with him and Judy living in Germany, Okinawa, California, and New Mexico. While living in Okinawa Carrol received his M.S. degree in Business and Finance.
He retired from the USAF on May 1, 1987, as a Lt. Colonel at Kirtland AF Base in Albuquerque, N.M. Carrol and Judy moved to Apple Valley in 1988, and he worked as a defense contractor at Nellis AF Base in Las Vegas for 9 years. They joined Trinity Lutheran Church in Victorville and were very active, including being members of the Handbell Choir, Chancel Choir, and the Service Team.
After retirement Carrol devoted 12 1/2 years as a volunteer helping veterans by transporting them to doctor's appointments in the LA area. Over those years he drove 126,000 miles for 5,400 veterans. He also enjoyed going back to the farm in Kansas and helping his cousins Dale and John with the harvests and helped maintaining fences etc. Up until his death, he was very interested in what was going on with the farm that he and his sister still own together, which was actually their grandpa's farm.
Carrol and Judy enjoyed traveling together throughout the world including excursions to Tanzania, Costa Rica, Cyprus, Iceland, the Galapagos Islands, Scandinavia, and many other places.
He is survived by his wife Judy, his sister Karen (Ralph) Tapphorn of Goleta, CA, and numerous other relatives including nieces, nephews, and cousins as well as several cats.
A memorial service will be held at Trinity Lutheran Church, Victorville in mid-May. In lieu of flowers, the family asks that donations be made to the Trinity Lutheran Handbell Choir.
[Published by the] Washington County News • March 10, 2022″