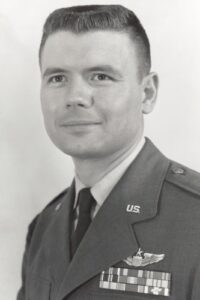 Darrell E. Lake, 87, of Sioux City passed away Wednesday, March 2, 2022, after a life well spent.
Darrell had flown the F-100 with the "Phu Cat Bats"  from 1968-1969. Sherman "Junior" Sawin was the last "Bat" to speak with Darrell. The information was sent to Dick Pietro and reads:
So, The "BATS" have lost  another squadron member. I'll send you what information I have from a good friend a fellow "BAT" Sherman "Junior" Sawin another SSS member. As you can see from his messages the passing of Darrell was not expected.
Here are Junior's remarks.
"A little more info on Lake.
I would not have predicted Darrell to be the next Bat, in line, to head west. Over the years I would receive an email from Darrell every month or so until about 6 months ago. Emails stopped. The last email I sent to Darrell was 3 or 4 months ago, No response. My thoughts were, well he's occupied with other things but he'll get back when he has the time. Then I receive this email pertaining to Darrell. Never once did he ever indicate he had any problems. Darrell was my oldest son's band teacher at East High School, Sioux City."
My next question is, what happened?? My only clue might be in his obituary, that I accessed from the Sioux City journal.  The closing line in his obituary reads as follows: "In lieu of flowers, memorials may be made to the Alzheimer's Association at https://act.alz.org/ or 225 N. Michigan Ave., Fl 17, Chicago, IL 60601."
Could Alzheimers been the cause? I don't know.
My list of "Old Bats" is getting shorter, Mr Pietro, but that's just the way life plays out."
The official obituary reads: Darrell was born on Dec. 8, 1934, in Merrill, the only son of Frieda and Mearl Lake. He grew up on the Lake family farm just outside of town with his father, mother, and grandparents Grant and Mable Lake. They had a dairy operation along with raising the traditional crops of corn, beans, and oats. They survived the last of the depression and the rationing of the war years, never having to go hungry because they raised everything they needed right at home.
Darrell graduated from Merrill high school in 1952 and attended Westmar College in Le Mars, graduating in 1956 and later received a Masters degree in music education from the University of South Dakota. He taught school as an instrumental music director for 36 years, starting in Sergeant Bluff and advancing to the Sioux City public schools until retirement.
During his time at Westmar College he met Joyce Thiele whom he married in June, 1958. They moved to Sioux City where the couple had two daughters, Janna and Deanna, and later adopted a son, Douglas. They lost Deanna at the age of four, a low spot in their lives. Joyce and Darrell celebrated their 63rd wedding anniversary in June of 2021.
Darrell always loved airplanes. He spent a lot of time reading about them and making balsa wood models to fly. He earned his private pilot license during his college years and became an owner of two aircraft and spent great times flying. In 1957, with a draft notice forthcoming, he joined the Iowa Air National Guard as a military pilot trainee and received his wings in 1958. He flew T-33, F-84, RF-84, F-100C with the Air Guard, flying the F-100C for 174 combat missions when the Guard was called up for a year in Vietnam during the Pueblo Crisis. After 28 years he retired from the Guard in 1994 as a Lt. Col.
The other great love (besides his wife and family) was his love of his dance orchestra. His father started a small four-piece group in the late 1930s which Darrell joined when in high school. When his dad passed away in 1986, Darrell took over the Mearl Lake Orchestra (keeping the name in honor of his dad) and expanded it up to 11 pieces. In the band's 70+ years of existence, it has performed a myriad of events, even for the President of the United States during one of his visits to Sioux City. Memories never to be forgotten.
He is survived by his wife, Joyce; daughter Janna and her husband Mark; granddaughter Jerica and her husband Tunji; and son, Douglas and his wife Yolanda, and their children Eviana, Sofia, Camila, and Arath.
Service will be held at 1 p.m. on Wednesday at Grace United Methodist Church. Visitation will be one hour prior to the service at church. Burial with military honors will be at Hillside Cemetery in Merrill, Iowa. Meyer Brothers Morningside Chapel is handling the arrangements. Online condolences may be made to www.meyerbroschapels.com.
In lieu of flowers, memorials may be made to the Alzheimer's Association at https://act.alz.org/ or 225 N. Michigan Ave., Fl 17, Chicago, IL 60601.