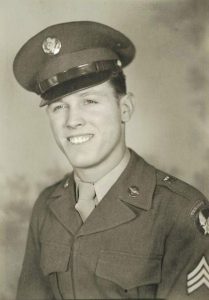 SSS member Joseph S. Gordy, Jr., 87, Chief Master Sergeant, USAF (Ret) of Greeley headed west on Feb. 9, 2017. He was born Sept. 30, 1929, to Joe and Vada (Gladish) Gordy, on a farm east of Weinert, Texas, where he grew up and attended school. On Sept. 3, 1949, Joe married Helen I. Rothe, at Cheyenne, Wyoming. He first enlisted in the Army Air Force on June 12, 1947, and served as an F-100 Crew Chief Maintenance Superintendent until his retirement from the Air Force, June 11, 1977.
Chief Grady served as an F-100 Crew Chief and was a highly regarded Super Sabre Society Associate Member, and the founder of  The Hun Maintainers Association, the predecessor to the Friends of Super Sabre  (FSS). He received the Korean Service Medal, the Vietnam Service Medal and various other decorations and awards.
He was also a life member of the Veterans of Foreign Wars, the Disabled American Veterans and the Union Colony Marines. He was active with the VFW Honor Guard, the Marine Corps League Honor Guard, and with the DAV Transportation Network taking veterans to the Cheyenne VA Medical Center. After his retirement from the Air Force, Joe was a contractor in Greeley until he retired in 1995.
The Chief enjoyed his volunteer work with the veterans' organizations and with his church. He enjoyed camping and fishing. Joe was blessed to have 65 years with Helen, his faithful wife and companion. He spent time with grandchildren, great-grandchildren and great-great-grandchildren whenever possible. Joe and Helen attended church services on Saturday morning and Sunday morning Christian Bible Study with a small group of friends and family. He was a member of Elm Haven Fellowship Seventh-day Adventist Church.
Chief Gordy is survived by his sons, Dwight and his wife Freda, of Indo, Calif., and Joseph III and his wife Laurie, of Georgetown, Texas; daughters-in-law, Maria Gordy of Georgetown, Texas, and Pamala Gordy of Eaton; brother, James W. Gordy (Elizabeth) of Carlsbad, N.M.; sister, Maxine Barton, of Midland, Texas; sister-in-law, Maryanne Gordy, of Burnet, Texas; also survived by seven grandchildren, five great-grandchildren and one great-great-grandchild.
Chief Gordy is preceded in death by his wife, Helen; parents; sons, Dwayne Ray Gordy and James E. Gordy; sisters, Naomi Gordy, Joannah Smith, Juanita Sparkman, Evelyn J. Branham, Dorothy Turnbow, Yvonne Chance; and brothers, Deward and Robert Gordy.
Interment was with Linn Grove Cemetery, 1700 Cedar Ave., Greeley, CO, with military honors  by the Air Force and Greeley VFW Post No. 2121 Honor Guard.
Memorial contributions may be made to the Greeley VFW Honor Guard, Post 2121, the Union Colony Marines, Detachment 1093 or to TRU Hospice of Northern Colorado in care of Allnutt Funeral Service, 702 13th St., Greeley, Colo., 80631. Friends may view the online obituary and send condolences at Https://www.allnutt.com.