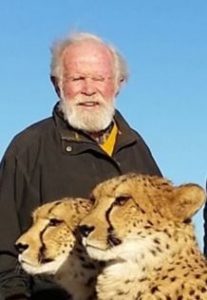 John Roderick Wilson Headed West April 24, 2017, two days after his 87th birthday. He died peacefully, surrounded by family. Raised in Garden City, New York, in high school he was a champion wrestler, all-star soccer player, and president of the student council. He graduated Colgate University '52, Delta Kappa Epsilon. John had had three careers, each highly successful, which reflected his patriotism and vibrant personality. "
Truly a giant among men. John was always going somewhere to do something…either something important or something fun….or both" 
John served in the U.S. Air Force as an F-86 and F-100 fighter pilot, and was a charter member of Super Sabre Society, and Aspenosium, a group of active duty and retired fighter pilots who met each winter in Steamboat Springs, Colorado. Following his service, John worked 27 years in the radio broadcast industry in sales and management. Beginning in 1985, John directed his energies into private investing and philanthropy.
He was a trustee of Piedmont College and the Atlanta International School, a fellow of the American Council of Trustees and Alumni and a member of the Robert Burns Club of Atlanta. He was an enthusiastic Trustee of the Cheetah Conservation Fund in Namibia. John was a member of the Golf Club of Georgia.  As a member of the 130-year old St. Moritz Tobogganing Club, he rode the Cresta Run, a 3/4 mile ice track with a 500-foot vertical drop, where in 2003, he won third place in the Seniors Cup.
He is survived by his beloved wife of 65 years, Audrey Lundell Wilson of Sandy Springs, GA; his brother, Douglas Wilson of Malden-on-Hudson, NY; his daughters Jennifer Sinek (Ronald Sinek) of Falls Church, VA and Julianne Wilson, of Cleveland, GA; four grandchildren, Heather, Meg and Connor Sinek, and Lizz Holtz; and a great-grandson, Emmett Holtz.
He is pre-deceased by his brother David Wilson. A memorial service was held at Northwest Presbyterian Church and his ashes are interred at Colgate University. Donations may be made to the William W. Wilson Scholarship Fund at Colgate University (Colgate.edu, specify "W.W. Wilson Scholarship Fund"), or to the Cheetah Conservation Fund (cheetah.org). Condolences may be sent to JRWCondolences@gmail.com.