---
Super Sabre Society member Walter J. Rabe, Col USAF (Ret) headed west on July 23, 2017, at age 83. He is survived by his wife, Janet, five daughters, one son, and nine grandchildren.
In 1957 as a cadet at West Point, Carl Rabe marched along the parade route during the Inauguration of President Dwight D. Eisenhower. Sixty years later his grandson, Ethan Rabe, a Fishburne Military School student was one of the members of the corps of cadets to march in the Inaugural Parade of President Trump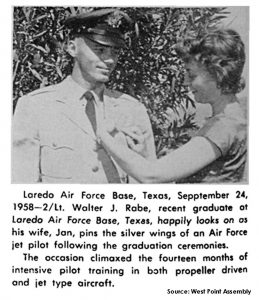 Walt was a very early Flyer of the F-100 with assignments to 12TFS/18TFW, Kadena, 1959-62; 355TFS/354TFW Myrtle Beach 1962-64; and a Vietnam combat with 306TFS, Tuy Hoa in 1967.
Walt was born on 7 January 1934, the third of seven children of Ferd and Aurelia Rabe. He spent his youth in Northern Kentucky, and graduated from Covington Latin School.
On 7 July 1953 Walt entered the US Military Academy at West Point as a member of the Class of 1957. In his third year there, while in Kentucky on leave, he met Janet Schummer at a dance. Over the years, the ensuing relationship and marriage resulted in the six offspring he leaves behind.
Upon graduation Walt entered USAF pilot training. After receiving his wings he was privileged to be part of the first new pilot group to go directly into fighter training in the then front line F-100 Super Sabre. He was always grateful that the U.S. government let him fly this wonderful fighter plane for over six years, including a tour in Vietnam.
Following graduate school at the University of Michigan, Walt served on the faculty at the USAF Academy in the Department of Astronautics and Computer Science. In later years he also served on the faculty of the Industrial College of the Armed Forces in Washington D.C. In between these tours he served in a variety of positions in the Air Force in different phases of systems development. Following Air Force retirement after 27 years, he found work with a quality engineering firm in the D.C. area, working in support of the Navy.
Walt was most fortunate to have a large and loving family. The annual week at the beach with the entire family, the visits to the country property, the dinners with the entire family at home all enriched his life. Despite his obvious lack of talent, Walt also loved golf, and generally played twice a week. He kept, but did not worry about, scores.
Walt is survived by his wife, Janet, five daughters, Victoria Darby (Bruce), Pamela, Kimberly, Janet Bell (Carl), and Amy Reed (Travis), and one son, Walter (Claudia Rodriguez). Also surviving him are nine grandchildren: Jake Darby (Danielle), Tara Smith (Michael), Cole Darby, Caysie Balenger, Garrett Rabe, Ethan Rabe, Andrew Bell, Ashley Bell, and Trevor Reed; and three great grandchildren: Jaxon Smith, Carter Smith, and Wyatt Darby.
Interment will follow at a later date at Arlington National Cemetery.