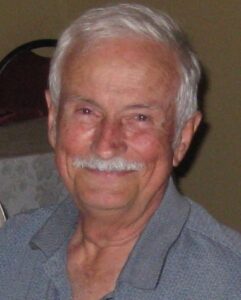 Charles "Harv" Segrest's childhood interest in airplanes led to a twenty-year career in the USAF.
From 1962-1965 Harv flew the F-100 with the 524th Tactical Fighter Squadron/27th Tactical Fighter Wing, based at Cannon AFB, NM. Other highlights of his career included flying combat missions in Vietnam and receiving the Distinguished Flying Cross and Bronze Star for his service there.
On completion of his tour in Vietnam, he served as an Experimental USAF Test Pilot.  Later in his career, he served at Kirtland Air Force Base in the Weapons Lab.
After retirement from the Air Force, he worked at BDM Corporation in Albuquerque.  Once fully he retired, he lived in a self-designed and constructed custom adobe home in the Manzano Mountains for thirty years before returning to live in Albuquerque.  With partners, he first owned and flew an Ercoupe small aircraft for pleasure, and then an Esqual.
He and his wife traveled extensively, including around the world trip, and travels to Great Britain, Europe, China, and India, plus several cruises.
He is survived by his wife Merrilyn, daughter Julia Segrest Servatt, and sons Thomas, and Rodney, and Andrew Kite. He was for many years an active member of the QB Albuquerque Hangar and a member of the Flying Octagenarians.
In lieu of flowers, donations may be made to the Roadrunner Food Bank or the charity of your choice.
For Harv's full bio go to https://supersabresociety.com/biography/segrest-claude-h-jr/
Source: Obituary for Claude Harvey Segrest | French Funerals and Cremation