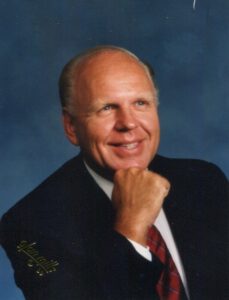 At an early age, Jack discovered his love for flying.  Prior to his service in the Air Force, Jack earned a Bachelor of Science Degree from the University of Maryland School of Business.
Jack chose to serve his country and was accepted into the US Air Force with the honor to attend flight school. Upon graduation, he won the award for being the Most Outstanding Student in his class. As a fighter pilot in the Air Force, he flew F-86 and F-100 aircrafts.
Over the years, he owned several planes and taught his son Mark to fly. He had a particular passion for aerobatic maneuvers and Mark followed in his footsteps. Jack also enjoyed years of traveling in the US and abroad with Becky and their special friends. He was a member of Prestonwood Country Club and looked forward to many club activities including playing golf with family and friends.
After his military service, he became a Managing Director for Bell Atlantic in Maryland and Washington, D.C. where he was employed for 30 years. During that time, he was the Managing Director for most of the telecom projects within The White House.
Jack passed away peacefully to his heavenly home on March 23, 2021. Preceding him in death were his parents Reginald and Nadie Guthrie, brother Thomas Guthrie, sisters Bobby Vees and Peggy Grigg, and dear son Mark C. Guthrie. He is survived by his loving wife Becky Guthrie, daughter-in-law Alison Guthrie and Scott McClellan, niece Pamela and Larry Modlin, great niece Marie and Danny Davis, and great nephew Ben Modlin and Teresa Walker.
A funeral service was held on April 3, 2021 at Raleigh Memorial Park Mausoleum Chapel, Raleigh, NC, where he was entombed.
In lieu of flowers, please consider donations in memory of Jack to St. Jude Children's Research Hospital, 501 St. Jude Place, Memphis, TN 38105, or a charity of your choice.