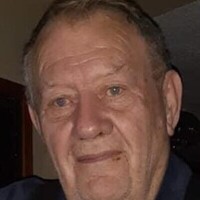 Gary A. Ball, 82, of Columbus, Nebraska, died Tuesday, July 20, 2021, at Bryan East Hospital, Lincoln, Nebraska.
Gary A. Ball was born October 5, 1938 in Culbertson, Nebraska on the farm to Kenneth and Ethel (Breitling) Ball.  The second of seven children, they moved to Bertrand, Nebraska in 1944.
He graduated from Bertrand High School in 1956.  Gary enlisted in the United States Air Force in 1959 and served for 20 years.  Basic training was at Lackland AFB, and from there he attended numerous trainings/schools in National Security, languages and field ops.  He graduated in 1962 as 2nd Lieutenant and was assigned to Kirtland AFB, where his time there included survival training schools and preparation for Pilot school at Vance AFB.
In 1964 he was selected and trained as one of only 18 pilots in the Nation to fly the Elite RF-57F high altitude airplanes.  He was deployed to Vietnam in 1968 where he flew 284 successful combat missions in the F-100 Super Sabre, and was awarded medals in Meritorious Service,  Extraordinary Achievement and Heroism. The family was then stationed at Woodbridge AFB and Upper Heyford AFB, in England, where he began flying F-111's, ending at Mountain Home AFB where he was Head of Disaster Preparedness.  He was Honorably discharged in 1979 with the rank of Captain.
He earned his Bachelor's Degree in Economics Business Admin. in 1974, followed by his Master of Science Degree at University of Northern Colorado in 1979.
Gary was united in marriage to the love of his life, Nora Skarnelis on August 12, 1962.  To this union three children were born- Lija, Andra and Loren.  After retirement, the family lived in the States of Idaho, Indiana and back to Nebraska in 1983. He worked as a pilot for Mountain West Airlines, Columbus Air Services and Douglas & Lomason.  In 1997 Nora and him Re-retired to Coeur d' Alene, Idaho, then moving back to Columbus, Nebraska in 2011.
Gary enjoyed spending time with family and friends; reading and researching everything; tinkering with computers and cars; his favorite foods Escargot, Chicken & Dumplings and homemade cookies his daughters spoiled him with; spending time with his beloved cat Charlie; telling amazing stories, and being a member of the Sky Roamers club.  He was a character not to forget. Period.
Gary is survived by:
Wife – Nora Ball of Columbus, NE
Mother – Ethel Ball of Bertrand, NE
Daughter – Lija (Doug) Pittman of Coyle, WA
Daughter – Andra (Hayden) Eilers of Columbus, NE
Five Grandchildren – Ashley Eilers, Shane Leathers, Clayton (Cecelia) Eilers, Jonah Henness and Kelsey Rehrmann.
Six Great Grandchildren – Isaiah Eilers, Talon Eilers, Lyric Leathers, Serenity Shelton, Taylor Shelton and Kiedis Gronenthal.
Siblings – Norman (Edelia) Ball, Sharon Johnson, Sheila Seyfried, Richard (Lisa) Ball and Shelly Ball.
Numerous nephews, nieces and cousins.
Gary was preceded in death by:
Son – Loren Ball
Father – Kenneth Ball
Sister – Shirley Forster
Brother-in-law – Gary Johnson
A Celebration of Life for family and friends will be held on July 29, 2021 at Henry on 11th, 2521 11th St., Columbus, NE, from 3:00 – 8:00pm, open-house.  Military honors by the American Legion Hartman Post 84 Honor Guard.  Memorials may be given to V.A. Veterans Home.
To read more about Gary see his bio page at Ball, Gary A. | Super Sabre Society