[vc_row css_animation="" row_type="row" use_row_as_full_screen_section="no" type="full_width" angled_section="no" text_align="left" background_image_as_pattern="without_pattern"][vc_column][vc_column_text]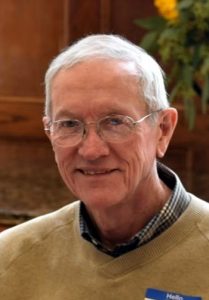 Charles Brumfield Gulley, 83, of Montgomery passed away peacefully surrounded by his family on July 12, 2018, at Angels for the Elderly after a long, courageous battle with Alzheimer's.
Charles was born on August 31, 1934, in Brookhaven, MS. He attended Brookhaven High School and McCallie Military School in Chattanooga, TN where he graduated Cum Laude. After graduating from Tulane University, he entered the United States Air Force where he became a fighter pilot and did two tours of duty in the Vietnam War. He served his country in the USAF for 23 years before retiring as a decorated veteran. He worked as a stockbroker with Robinson-Humphrey for 16 years. In 1994, Charles was ordained a permanent deacon in the Catholic Church. A great man of faith, he loved serving God and spending time with his family.
Charles was preceded in death by his parents, George Hoke Gulley Sr. and Kathryn Brumfield Gulley, his brother George H. Gulley Jr., and his son, Michael Allen Gulley.
Charles is survived by his loving wife of 55 years, Joan Ritchey Gulley; children: Patrick Russell Gulley (Melissa), Laurie Gulley, Kathy Gulley McNabb (Rick), and Kiki Gulley Smith (Michael); grandchildren: Amanda, Allison, Ryan, Hannah, and Sarah Gulley; Molly, Megan, Emma, and Bennett McNabb; Katie, Drew, Grant, and John Russell Smith; and a host of nieces and nephews.
Visitation was held on Saturday, July 21, 2018, in the St. Bede Family Life Center followed by a rosary in the Church. Funeral Mass was with Most Reverend Thomas J. Rodi, Archbishop of Mobile celebrating. Charles was laid to rest at St. Margaret's Cemetery with military honors.
The family is very grateful to the staff and volunteers of the Respite Ministry at FUMC and everyone at Angels for the Elderly for the loving care and support offered to him. We especially want to thank his "best friend."
Memorials may be made to St. Bede the Venerable Catholic Church or to the Respite Ministry at First United Methodist Church.
(source: https://www.dignitymemorial.com/obituaries/montgomery-al/charles-gulley-7932032)[/vc_column_text][/vc_column][/vc_row]