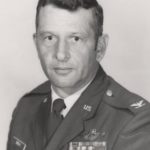 Col  Kenneth "Sam" Alton Shealy. USAF (Ret)  87, headed west on September 17, 2016. He is survived by wife, Marjorie A. Shealy, daughter Pamela K. Vann and son-in-law Thomas Vann, Colleen M. Moore, Susan L. Gaeta, Daniel S. Shealy and daughter-in-law Alison M. Shealy. Also surviving grandchildren Rachael (Mike) Sorboro, Patrick Moore, Connor Moore, Alexandria Gaeta, Danielle Gaeta, Callie Shealy, and Samantha Shealy.
The Shealy family received friends from visitation and viewing on September 21, from 5-7 pm, and a Masonic service at the Munz-Pirnstill Funeral Home. Funeral services were be held at St. Paul Lutheran Church, Sulphur Springs, Ohio, September 22, 2016 at 11 am. Burial with military rites will followed in St. Paul Lutheran Church Cemetery
Col Shealy was a 1947 graduate of Sulphur Springs School. He worked on the family farm before being accepted as Air Force Aviation Cadet. He joined the Air Force in 1949, graduated flight school earning his wings, and received his commission as Second Lieutenant in October, 1950.
Shealy's career took him all over the world. His first tour abroad began with a two week ocean voyage from San Francisco to Tokyo, Japan, and then to South Korea where he was assigned to the 25th Fighter Squadron. He flew 100 F-86 combat missions over North Korea and was credited with a MIG kill on December 28, 1951. One of his Sabre Jets was named 'Bucyrus Baby', in honor of his home-town area. In 2007, Shealy was invited by the government of South Korea to return there and receive thanks and recognition for helping South Korea attain their freedom.
In December 1966, Shealy was called to defend freedom in South Vietnam, Flying F-100's . He was initially assigned to the 365th Tactical Fighter Squadron in Phan Rang. Later he served as Squadron Commander at the 612th Tactical Fighter Squadron at Phu Cat Air Base, flying 301 F-100 combat missions over Vietnam.
In 1973, after 24 years of service, he retired honorably form the United States Air Force. Shealy's Air Force awards and achievements include: The Distinguished Service Metal; Distinguished Flying Cross with 3 Oak Leaf Clusters; Air Medal with 17 Oak Leaf Clusters; Air Force Commendation Medal; Bronze Star Medal; Air Service Medal and Legion of Merit Medal; Presidential Unit Citation; Air Force Outstanding Unit Award; Air Service Medal Honor Class; Army Good Conduct; National Defense Service Medal with BSS; Korean Service Medal with BSS; Vietnam Service Medal with two BSS; Air Force Longevity Medal; Expert Marksman Ribbon; Reserve Officers Ribbon; South East Asia Medal; Syngman Rhee Medal; United Nations Service Medal.
Shealy also enjoyed a lifelong love of the land and he could read the seasons like no other. Before retiring from the Air Force he frequently spent summer vacations in Ohio, on the family farm, plowing fields and planting. After military retirement Shealy farmed and raised cattle. He received the Award for Merit from Crawford SCWD for outstanding accomplishments in Resource Conservation in farming. He also managed Port Bucyrus-Crawford County Airport from 1978 to 1980. He had an instructor rating and taught many to appreciate the freedom and passion of flight. Later he flew as a corporate pilot for O.H. Materials of Findlay from 1981 to 1992.
Memorial contributions may be made to Maplecrest Assisted Living, Home Care Matters Hospice, or St. Paul Lutheran Church through the funeral home. Expressions of sympathy, photos, and memories can be made at www.munzpirnstill.com.