Colonel Leon K. Hofford – Headed West, December 10, 2018
Leon was born May 6, 1933, in Two Harbors, MN. When he was 10 years old the family relocated to Portland, OR.  He enlisted in the Air Force in 1951 and was trained as an Air Traffic Controller after Basic Training. His first duty assignment was as control tower operator at March AFB for 6 months. He passed all the tests and was accepted into the Aviation Cadet program in 1953.  He received his commission and wings in June 1954. Fighter gunnery school at Nellis AFB was next but since the Korean War was over his next duty assignment was in special services at McChord AFB. From there he was assigned to Rabat, Morocco as an administrative officer in 17th Air Force.  Upon returning to the states he flew the F-86 and F-100 with the 4th Fighter Wing at Seymour Johnson AFB.
In 1960 he decided to complete his education and resigned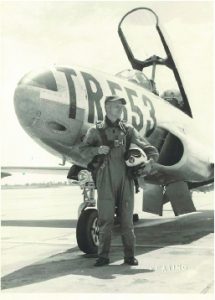 from the Air Force.  He received his Bachelor's degree from Georgetown University in 1963. While working on his degree, he flew the F-86 and C-121 with the West Virginia Air National Guard.  With his degree he was hired into a management position with Montgomery Ward in the Washington DC area.
Homesick for the West Coast he moved his family to Southern California and joined the 146th at Van Nuys in 1966. They were flying the C-97 at the time but transitioned to the C-130 a few years later. In 1974 he was hired as a full-time Air Technician and assigned as Chief of Plans.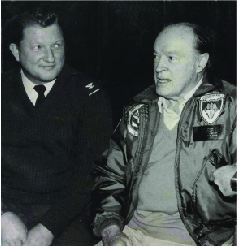 He was instrumental in developing the plans and procedures to utilize the C-130 in aerial fire fighting, the Modular Airborne Fire Fighting System. In 1979 he became the Air Operations Supervisor and promoted to Colonel. Prior to his retirement in 1984, he served as Vice Commander for the 146th Airlift Wing. He was by the book, but also knew how to work hard and play hard and took care of his troops. He passed away on December 10, 2018, in Ashland, OR with his family at his bedside.
Information sent by Associate SSS member, Leon's son Todd Hofford. (Colonel, ORANG, Vice Commander, 142d Fighter Wing Portland Air National Guard Base)