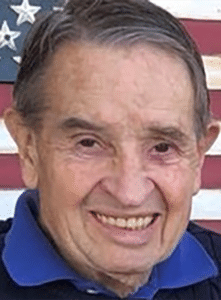 Colonel Douglas R Young of Henderson, NV (USAF, Ret.) "Headed West", May 21, 2019.
Doug was born on January 29, 1938, to Burton H and Marjorie D (Reiniger) Young of Rathdrum, Idaho.  He graduated from Washington State University in 1960 and joined the Air Force immediately thereafter.
Colonel Young served three tours of duty in Vietnam, flying the O-1 as a Forward Air Controller, then the F-100, and finally the F-105 as a "Wild Weasel."  He was selected as a Fighter Weapons School Instructor Pilot in the F-105; served as a Group Commander; and was later assigned to Headquarters staffs in Europe and at Tactical Air Command.  His decorations include the Legion of Merit, Distinguished Flying Cross, and Purple Heart.
Doug is survived by his wife of 47 years, Jeanne; daughter Michelle (Tripp) Adams of St Petersburg, Florida; sister Pauline Betz of Fircrest, Washington; nephews Mike, Paul, and Chris Betz and Justin Lee; and nieces Laura Mello and Erica Lee.
Services and Interment will be held at Arlington National Cemetery at a later date.
In lieu of flowers, the family requests donations to either The Fisher House Foundation, Rockville, Maryland or the Lou Ruvo Center for Brain Health, Las Vegas, Nevada.