"Misty 101" James A. Nugent "Headed West" May 26, 2019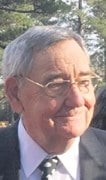 Col. James (Jim) Andra Nugent (USAF, Ret.), died May 26 at the VA Hospice in Lexington, KY. Jim graduated from Tioga High School in 1958 and went on to a distinguished 30-year career in the US Air Force, followed by a number of years supporting the armed forces as a defense contractor. He and Jan retired in 2007 in Lexington, KY.
From July 1968 – Aug 1968 Jim was stationed at Myrtle Beach AFB, SC (attached to National Guard F-100 unit). In September of  1968 to September of 1969, he served with the 612th TFS at Phu Cat, Tuy Hoa, and Phan Rang Air Bases in Vietnam. In March 1969 to Jun 1969 he was assigned as Misty 101.
Jim leaves behind his wife of 58 years Helen Janice (McCann) Nugent, daughters Karen Nugent and Julye Nugent, sister Mittie Durham and brother-in-law George Durham, and many beloved nieces, nephews, and friends.
A memorial service will be held at Palestine United Methodist Church, 306 Tioga Rd, at 2:00 pm on July 13, with a reception to follow.
Published in The Town Talk from June 28 to July 12, 2019