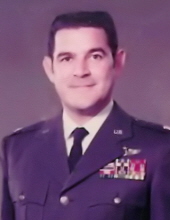 Dale B. Huffman, (Major USAF, Ret), age 81, passed away Thursday, September 16, 2021, at Rapides Regional Hospital, Alexandria, LA. The youngest of 14 children, he was born in Rochester, NY, December 8, 1939, to Frank Huffman and Nellie (Rodney Messersmith) Huffman. Dale grew up in Manchester, NY, and graduated from Red Jacket High School in 1957.
In 1961, Dale graduated as an aviation cadet and served as a fighter pilot in the United States Air Force, flying F-100 and A-7 fighter planes. He served in Vietnam in 1966. In 1968, he graduated from Fighter Weapons School at Nellis AFB. During his military career, Dale reached the rank of Major. His awards and citations include Bronze Star, Distinguished Flying Cross, Air Medal with seven oak leaf clusters, Viet Nam Service Medal, Air Force Commendation Medal, Air Force Combat Medal, and Good Conduct Medal. He was a long-time member of the Order of Daedalians and the Super Sabre Society.
Following his retirement from the USAF, after 22 years of distinguished service, Dale worked at Kisatchie-Delta Regional Planning and Development District for about 15 years.
A life-long learner, Dale earned a Bachelor's degree from Northwestern State University in Natchitoches, LA in 1976 and a Master's degree from Webster University in 1978. He enjoyed golf, computers, photography, navigating, and any television show that took place in Alaska. He also devoted many hours of his time as a volunteer tax preparer.
He is survived by his wife of 59 years, Barbara (Sawyer) Huffman, the woman he knew he would marry the first time he saw her. Also, surviving are their two children, Diane Lanier (Brad), Bloomington, IL, and Mark Huffman (Yvette), West Fork, AR; grandson, Joshua Huffman, West Monroe, LA; and granddaughter, Hailey Lanier, Denver, CO.
He was preceded in death by his parents and his 13 siblings (Messersmiths and Huffmans), his granddaughter, Stacey Gentry Morrison, and her husband, Joshua Morrison.
Dale was a devoted husband, father, son, brother, uncle, and patriot who loved this country. He will be dearly missed by many.
Services will be held Thursday, September 23, 2021, at Rush Funeral Home, US Hwy 165, Pineville, LA. Visitation will be 12:00 – 2:00 p.m., followed by services in the Chapel officiated by Reverend Carolyn Fletcher. Burial will be in Forest Lawn Memorial Park, Ball.
In lieu of flowers, donations may be made to the Wounded Warrior Project or Alzheimer's Association.
Friends may post online messages of condolence for the Huffman family by visiting www.rushfh.com
To send flowers to the family or plant a tree in memory of Major Dale B. Huffman, USAF (Retired) please visit our Tribute Store.
Source: www.rushfh.com