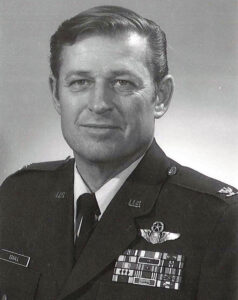 Colonel Edsall, 87, of Garden Ridge, TX, passed away after a lengthy illness with pulmonary fibrosis. He was born to Roy and Hazel (Miller) Edsall on Dec 18, 1934, on the ranch his parents homesteaded in Jordan, Montana on the far eastern plains of Montana. His values throughout his life were imbued by his father and his Montana ranch upbringing to include honesty, integrity, fairness, respect for all, and love for his family.
After starting school in a 1-room schoolhouse, where he would ride his horse to school, he graduated from Garfield County High School, the last public boarding school in the U.S. He left the ranching life in 1955 to enlist in the Air Force as an Aviation Cadet to pursue his dream of becoming a fighter pilot, graduating in 1957.
His Air Force career spanned 29 1/2 years. He flew many different aircraft to include PA-18, T-I6, T-33, F-86, F-100 (3600 hours), T-39, A-7, A-10, and C-12. While assigned to Davis-Monthan AFB in Tucson AZ, he was Dep Chief of Ops for the only active AF A-7D combat crew training squadron, and later Director for the first A-10 Operational Test Squadron. During his 2 yr assignment as 12AF Director of Standardization/Evaluation at Bergstrom AFB, TX he also flew 10 other AC to include the F-111, F-4, and F-16. He was a command pilot with over 5,000 flying hours, with most of those hours spent in a single-seater fighter jet.
While serving two assignments in Vietnam, he flew 190+ missions, which resulted in receiving two Distinguished Flying Crosses and Air Medal with 11 oak leaf clusters. He also received the Legion of Merit and three Meritorious Medals. While serving in the Air Force, he had many assignments to include California, Japan, Vietnam, Florida (participating in the 1962 Cuban Missile Crisis as an F-100 pilot), Spain (his unit was stranded in Libya when Gaddafi took power), Louisiana, Virginia, Arizona, Texas, with his final AF assignment with the US Embassy in Athens, Greece. These assignments included many deployments which required 18+ ocean crossings in an F-100 single-seater fighter jet. During his AF career, he received his undergraduate and master's degrees, retiring from the Air Force in 1984.
After retirement from the Air Force, he accepted a position with McDonnell Douglas Aircraft Company in St Louis MO, working in International Marketing. He traveled extensively to the Far East (Japan and Korea) with this position. After living in Williamsburg VA, he then moved to Singapore and then Kuala Lumpur, Malaysia as VP for Southeast Asia. While living in SEA, he and Sandy were able to travel on many adventures to include Nepal, Myanmar, Thailand, and many of the far-flung Indonesian islands. After his retirement from MDC in 1998, he returned to the US to live in Garden Ridge, TX where he has resided for 13 years.
Phil is survived by his wife of 32 years, Sandra Digby, children Deborah (John) VandenBerg, Arroyo Grande CA, Wendy Edsall, Tucson AZ, David (Aimee) Edsall, Cayucos, CA, Sidney (Cesar) Villanueva, Vicenza Italy, and Jason Owens and his fiancée Gaileon Thompson, Jacksonville, FL and 7 grandchildren: Cole, Kendall, Casey, Scarlet, Ian, Elliott and Olivier. He is also survived by his brother Glen (Martha), Bozeman MT, and his sister Rheta (Bill) Kissler, Garden Ridge TX. He is a member of the Super Saber Society (F-100 pilots), Daedalians, Red River Valley Fighter Pilots Association and the Garden Ridge Lions Club.
A very special thank you to the doctors and staff at Kindred Hospital who made his last few months comfortable with their care, compassion and friendship. Also, to his many loyal friends from the Garden Ridge Lion's Club who visited him regularly and kept his spirits high.
Col. Phil Edsall is buried at Ft. Sam Houston National Cemetery.